Alaska/Pacific Coast
No herring spotted on ADF&G first survey of Togiak District Monday
Some shore ice still around the district, and surface temps still at zero. Fish and Game flew Monday to look around, playing it careful after last year's record early arrival.
KDLG by Dave Bendinger – April 18, 2017
An estimated 131,000 tons of herring are bound soon for the shores around Togiak, but they are not here yet. The Department of Fish and Game flew its first survey Monday, reporting back that no herring were spotted.
http://kdlg.org/post/no-herring-spotted-adfg-first-survey-togiak-district-monday
Temporary closure for trawl gear in GOA EEZ
Cordova Times – April 19, 2017
Federal fisheries officials have issued a temporary closure to vessels using trawl gear for directed fishing of species that comprise the deep water species fishery in the Gulf of Alaska.
http://www.thecordovatimes.com/2017/04/19/temporary-closure-for-trawl-gear-in-goa-eez/

West Coast EFP Successfully Targets Pelagic Rockfish with Minimal Bycatch
SEAFOODNEWS.COM by Susan Chambers – April 19, 2017
More than 750,000 pounds of West Coast rockfish have been landed in roughly a month under an exempted fishing permit, creating a small boon for fishermen and markets.
The 2017 annual catch limits (ACLs) for many rockfish species such as canary and widow rockfish, formerly listed as overfished, increased more than five times what they were in 2016 — but the trawl fleet had no real way to access them under the catch shares program, which holds fishermen 100 percent accountable but did not remove archaic management regulations.
Four entities — the Oregon Trawl Commission, West Coast Seafood Processors Association, Environmental Defense Fund and Pacific Seafood — approached NMFS late in 2016 with the idea to relax some of the trawl gear regulations so fishermen could access the pelagic rockfish. The trawl gear regulations in the EFP would be a subset of the larger gear regulations package the industry hoped would be implemented in 2017 but found out was delayed.
The support of 13 lawmakers were instrumental in getting the project started. Reps. Kurt Schrader, D-Ore.; Jaime Herrera Beutler, R-Wash.; Peter DeFazio, D-Ore.; Jared Huffman, D-Calif.; Derek Kilmer, D-Wash.; Denny Heck, D-Wash.; Greg Walden, R-Ore.; Earl Blumenauer, D-Ore.; Suzanne Bonamici, D-Ore; and Sens. Maria Cantwell and Patty Murray, D-Wash.; and Sens. Ron Wyden and Jeff Merkley, D-Ore., all signed a letter supporting the trawl gear changes.
"This timing is essential because after new stock assessments showed that many rockfish stocks had been rebuilt years ahead of schedule, the PFMC approved rockfish trawl allocations for the 2017-2018 biennium that will allow for the first targeted rockfish fishery in almost 20 years," they wrote.
The lawmakers' letter to NMFS also supported approval of the full trawl gear regulations package.
"The goal of this EFP is to test how to improve harvests of healthy pelagic rockfish populations, like widow and yellowtail, with the least possible salmon impacts," EDF's Shems Jud said. "The fishing that has occurred to date under the EFP, which incorporates a number of incentive-based mechanisms as well as an overall cap on salmon to reduce bycatch, suggests we can dramatically improve rockfish attainment and fleet revenue with very low impacts to salmon stocks. We're very optimistic."
The EFP has not been without problems. It was meant to be implemented by Jan. 1, but delayed until the end of February, giving processors little time to market rockfish in time for Lent. Some distributors spent a lot of time and effort to create marketing plans for fish expected to be delivered in February, only to fall short and have major retail chains back away from purchases because product delivery was not made.
"It truly became a 'Lucy and the football' experience," Pacific Seafoods' Mike Okoniewski said.
Okoniewski's frustrations with the EFP are similar to the industry's frustrations with NMFS' overall regulatory process. In other words, if the seafood industry and communities are going to benefit from a rationalized trawl fishery, the fishery itself must behave in a "rational" business-like manner.
"Flexibility of the regulatory platform itself is key to realize this goal. Placing a Yugo engine in a Ferrari body does not yield a race car," Okoniewski said. "The West Coast trawl fishery catch share regulatory program must be made capable of operating in ways that enhance business opportunities, not suppress them."
Still, many are optimistic. Some local West Coast restaurants are featuring rockfish as specials on their menus and customers are starting to take notice.
The 765,225 pounds of rockfish landed included only four Chinook salmon and no catches of green sturgeon or eulachon smelt, both ESA-listed species. Five vessels made 17 trips since the beginning of March.
"Increased catch limits for several key West Coast rockfish stocks offer a lot of opportunity for trawlers, if they can use the right gear and techniques to harvest them," Oregon Department of Fish and Wildlife's Marine Fisheries Section Manager Maggie Sommer said. "This EFP is a step in that direction. The EFP trips conducted so far have brought in good catches of midwater rockfish, with low bycatch, showing promise for a revitalized, clean midwater fishery."
For Oregon Trawl Commission Director Brad Pettinger, the success of a midwater rockfish fishery — something common when he was fishing more than 20 years ago — is a validation of sacrifices made since 2000.
"We're on the verge of placing the last piece of the puzzle to rebuilding this fishery," Pettinger said, noting the trawl industry has gone through a vessel and permit buyback, gotten MSC certification and transitioned to catch shares rationalization. "It's been a lot of work over the last decade-plus."
http://www.seafoodnews.com/Story/1058458/West-Coast-EFP-Successfully-Targets-Pelagic-Rockfish-with-Minimal-Bycatch
International
European Whole Salmon Floods US and Cuts into Canada's Market Share
SEAFOODNEWS.COM by Michael Ramsingh – April 19, 2017
European salmon producers, beset with sea lice problems, appear to be harvesting fish early and flooding the US market with unusual amounts of smaller whole fish.
This has had an impact on Canadian producers, who normally dominate the whole fish market in the US.
Import data from the US Department of Commerce in February showed whole salmon imports from Europe about equal to shipments from Canada.
Whole salmon shipments from Canada in February were down 31 percent compared to 2016 figures. Meanwhile, whole salmon shipments from Norway, Iceland, Scotland and the Faroe Islands totaled 8.3 million pounds in February, a 31 percent rise or 2 million pound increase compared to last February.
Canada's share of whole salmon in the US market fell from 70 to 55 percent.

And while demand for salmon in the US and other global markets has been exceptionally high, this particular rise in European shipments to the US market has not been totally demand driven.
Rather, it appears US buyers have opted to import more whole salmon from Europe in 2017 because the surge in available supplies lowered prices to competitive levels compared to Canadian product.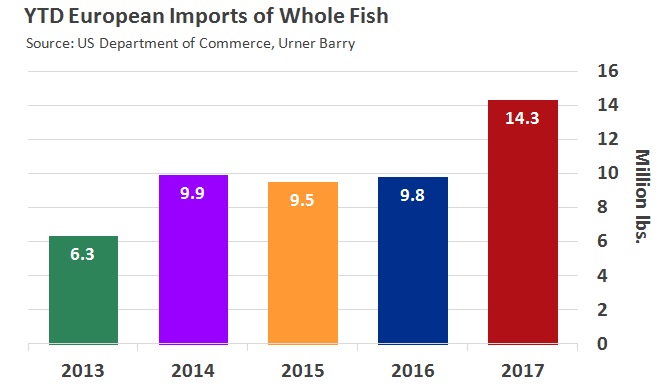 Total US imports of European whole salmon through the first two months are up to 14.3 million pounds. This figure is up 45 percent from a year ago and is easily the highest whole salmon import volume from Europe in at least the last five years.
Reports suggest producers in the region are having a very hard time containing outbreaks of sea lice in the ponds. They have exhausted options and turned to harvesting fish quickly to combat the epidemic.
Urner Barry quotations show European whole salmon prices down about $1.00 since January to around $4.20 for 6-7 kilogram whole fish.
Canadian prices, meanwhile, are trending between the $3.75 and $4.00 per pound, which is well within record territory for Canadian whole salmon.
It appears buyers in the US perceive European whole salmon a value at current prices, particularly given its wide availability.
http://www.seafoodnews.com/Story/1058456/European-Whole-Salmon-Floods-US-and-Cuts-into-Canadas-Market-Share
Environment/Science
Grad student studies whales eating hatchery salmon
KFSK by Joe Viechnicki – April 18, 2017
This month KFSK reported on a new hatchery remote release site for chum salmon in Thomas Bay near Petersburg, moved there to thwart humpback whales eating the young salmon when they're released. A researcher from Sitka gave a presentation on that topic in Petersburg Thursday, April 13. Ellen Chenoweth is pursuing her Ph. D. through the University of Alaska Fairbanks. She's based at the Sitka Sound Science Center and works with University of Alaska Southeast professor Jan Straley. Chenoweth's work is funded by the Alaska Seagrant Program and the National Science Foundation . Joe Viechnicki spoke with Chenoweth about her research and what she's observed.
https://www.kfsk.org/2017/04/18/grad-student-studies-whales-eating-hatchery-salmon/
The Arctic Ocean has become a garbage trap for billions of pieces of plastic
The Washington Post by Chris Mooney – April 20, 2017
Drifts of floating plastic that humans have dumped into the world's oceans are flowing into the waters of the Arctic as a result of a powerful system of currents that deposits waste in the icy seas east of Greenland and north of Scandinavia.
https://www.adn.com/arctic/2017/04/19/humans-have-filled-the-arctic-ocean-with-billions-of-pieces-of-plastic/

Labeling and Marketing
Alaska Seafood Ranked Most Popular Protein on US Menus
Fishermen's News – April 19, 2017
The Alaska Seafood Marketing Institute's 2016 annual report, celebrates an exciting first, says ASMI Executive Director Alexa Tonkovich.
http://fnonlinenews.blogspot.com/2017/04/alaska-seafood-ranked-most-popular.html
Ann Owens
Pacific Seafood Processors Association
Office Manager
1900 W Emerson Place Suite 205, Seattle, WA 98119
Phone: 206.281.1667
E-mail: pspafish@gmail.com; Website: www.pspafish.net
Our office days/hours are Monday-Friday
8:00 A.M. – 5:00 P.M.
In accordance with Title 17 U.S.C. Section 107, any copyrighted work in this message is distributed under fair use without profit or payment to those who have expressed a prior interest in receiving this information for non-profit research and educational purposes only. *Inclusion of a news article, report, or other document in this email does not imply PSPA support or endorsement of the information or opinion expressed in the document.