Alaska/Pacific Coast
Commercial silver fishing could return to the Lower Kuskokwim this summer
APRN News – April 5, 2017
Silver salmon fills the bottom of a boat during a subsistence opening in August 2016 near Bethel. A new fish processor in Bethel may allow for commercial openings during the 2017 silver salmon run. (Photo: Katie Basile / KYUK)Commercial fishing could be returning to the Lower Kuskokwim this summer. Washington state fish buyer Pacific Harvest Seafood is working to anchor a fish processing vessel along the Bethel seawall from late July through August to buy silver salmon from Quinhagak to Bethel.
https://www.krbd.org/2017/04/05/commercial-silver-fishing-could-return-to-the-lower-kuskokwim-this-summer/

City Council to vote on big water-rate hike for processors
KRBD by Leila Kheiry – April 5, 2017
An ordinance that would raise water rates for seafood processors by 35 percent annually over the next three years is in front of the Ketchikan City Council on Thursday.
https://www.krbd.org/2017/04/05/city-council-vote-big-water-rate-hike-processors/
Harvest Strategy Approved for PWS Tanner Crab
Fishermen's News – April 5, 2017
A harvest strategy critical to future tanner crab fisheries in Prince William Sound was approved by the Alaska Board of Fisheries during its statewide king and tanner crab meeting in Anchorage in late March.
http://fnonlinenews.blogspot.com/2017/04/harvest-strategy-approved-for-pws.html
Submit proposals to fisheries board by April 11
Cordova Times – April 5, 2017
April 11 is the deadline for submission to the Alaska Board of Fisheries for proposals for changes in the subsistence, personal use, sport, guided sport and commercial fishing regulations for upcoming board meetings.
http://www.thecordovatimes.com/2017/04/05/submit-proposals-to-fisheries-board-by-april-11/

Politics
Fishing-industry groups blast Inslee over his picks for federal council
Gov. Jay Inslee faces backlash from North Pacific fishing-industry groups over his handling of the nomination process for a seat on a federal council.
Seattle Times by Hal Bernton – April 5, 2017
Gov. Jay Inslee's handling of nominations for a federal fishery-council seat has come under attack from the leaders of major North Pacific fishing-industry groups, which have taken the unusual step of sending a complaint letter to the U.S. Secretary of Commerce.
http://www.seattletimes.com/seattle-news/politics/fishing-industry-groups-blast-inslee-over-his-picks-for-federal-council/
Labeling and Marketing
Fresh Pacific Halibut Prices Up 10% as Poor Weather Slows Alaskan Production Ahead of Good Friday
SEAFOODNEWS.COM by Michael Ramsingh – April 5, 2017
Alaskan halibut production during the first month of the season is lower from last year because of inclement weather. Wholesale prices for Pacific halibut are now moving higher with inventories limited ahead of Good Friday.
According to the National Marine Fisheries Service RAM Division, halibut landings out of Alaska through the first three fishing weeks in March topped 1.2 million pounds.
This is a 27 percent drop in landings compared to the first three weeks of the halibut season last year. It's a decline of half a million pounds.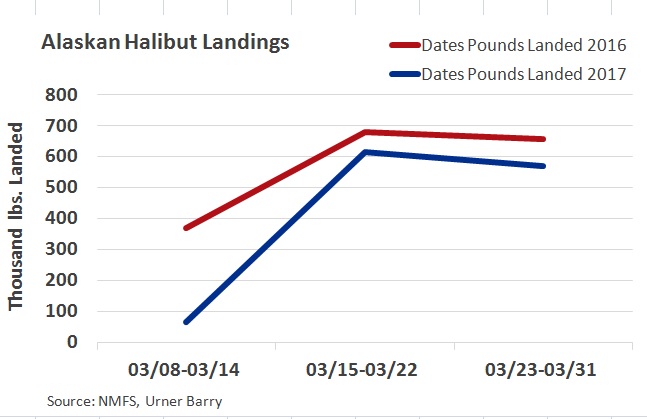 Traders tell Urner Barry bad weather has slowed halibut production in Alaska. Poor weather hampered fishing activity when the season opened on March 11. The first week produced just over 67,000 pounds of fish, which was down 80 percent from the first week of 2016.
Landings rebounded over the next two weeks of the season but poor weather again has slowed activity in the first week of April.
Overall, the decline in production compared to last March has pinched available supplies and wholesale prices are starting to tick up according to Urner Barry.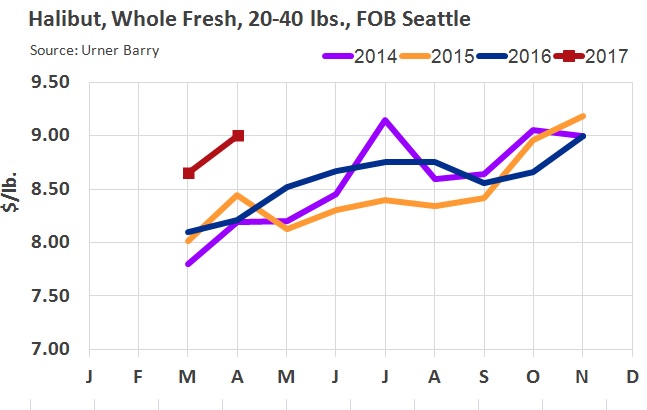 Quotations for 20-40 pounds fresh whole halibut out of Seattle are up to $9.00 per pound this week, a 10 percent increase compared to this time a year ago.
Traders say they will be closely monitoring Alaskan halibut production and supplies over the next week as demand could go higher in preparation for the last week of the Lenten season.
http://www.seafoodnews.com/Story/1056945/Fresh-Pacific-Halibut-Prices-Up-10-percent-as-Poor-Weather-Slows-Alaskan-Production-Ahead-of-Good-Friday
Federal Register
Fisheries of the Exclusive Economic Zone Off Alaska; Pollock in Statistical Area 610 in the Gulf of Alaska
A Rule by the National Oceanic and Atmospheric Administration on 04/06/2017
NMFS is opening directed fishing for pollock in Statistical Area 610 of the Gulf of Alaska (GOA). This action is necessary to fully use the B season allowance of the 2017 total allowable catch of pollock in Statistical Area 610 of the GOA.
https://www.federalregister.gov/documents/2017/04/06/2017-06814/fisheries-of-the-exclusive-economic-zone-off-alaska-pollock-in-statistical-area-610-in-the-gulf-of
FYI's
ComFish 2017: From fish politics to EM
Stutes on the budget battle: 'to get anything done for this state, there's going to have to be give and take on both sides.'
Cordova Times by Margaret Bauman – April 5, 2017
From fish politics to new products to an update on electronic monitoring in commercial fisheries, ComFish Alaska 2017 brought together an eclectic group of politicians, processors, and harvesters to talk shop at Kodiak March 30 –April 1.
http://www.thecordovatimes.com/2017/04/05/comfish-2017-from-fish-politics-to-em/
Ann Owens
Pacific Seafood Processors Association
Office Manager
1900 W Emerson Place Suite 205, Seattle, WA 98119
Phone: 206.281.1667
E-mail: pspafish@gmail.com; Website: www.pspafish.net
Our office days/hours are Monday-Friday
8:00 A.M. – 5:00 P.M.
In accordance with Title 17 U.S.C. Section 107, any copyrighted work in this message is distributed under fair use without profit or payment to those who have expressed a prior interest in receiving this information for non-profit research and educational purposes only. *Inclusion of a news article, report, or other document in this email does not imply PSPA support or endorsement of the information or opinion expressed in the document.