Alaska/Pacific Coast
Hiring seafood workers in Bristol Bay has been tough for years. This summer, it's even worse.
Alaska Dispatch News by Annie Zak – July 31, 2017
Seafood processors in Alaska's Bristol Bay this summer have had trouble finding enough workers to handle the fish that come through their plants.
https://www.adn.com/business-economy/2017/07/31/hiring-seafood-workers-in-bristol-bay-has-been-tough-for-years-this-summer-its-worse/
Commercial fishermen harvest 1.8M sockeye so far, no fishing Tuesday
Peninsula Clarion by Elizabeth Earl – July 31, 2017
Upper Cook Inlet's commercial drift gillnet commercial fishermen got to fish throughout the waters of the central district during their regular period Monday.
http://peninsulaclarion.com/news/local/2017-07-31/commercial-fishermen-harvest-18m-sockeye-so-far-no-fishing-tuesday
Commercial fishing sector braces for another bad year
B.C. fishermen facing limited or no openings for sockeye
Business in Vancouver by Nelson Bennett – August 1, 2017
Commercial fishermen in B.C. won't be getting many – if any – opportunities to harvest sockeye salmon this year, though they may be able to at least net some pink salmon.
https://www.biv.com/article/2017/8/commercial-fishing-sector-braces-another-bad-year/
National
Surging Sockeye Leads to Jump in Retail Promotions in July, Outstripping Farmed Salmon
SEAFOODNEWS.COM by John Sackton – July 31, 2017
High spring Atlantic salmon prices, coupled with surging production of Sockeye, has had a significant impact on retail promotions of salmon.  It is leading to a stellar summer selling season for sockeye at retail, with volume up, and prices up as well.
As shown in the Urner Barry Chart below, retail sockeye promotions normally surge in July.  However, this year they have surpassed farmed salmon promotions by the largest margin in the past three years.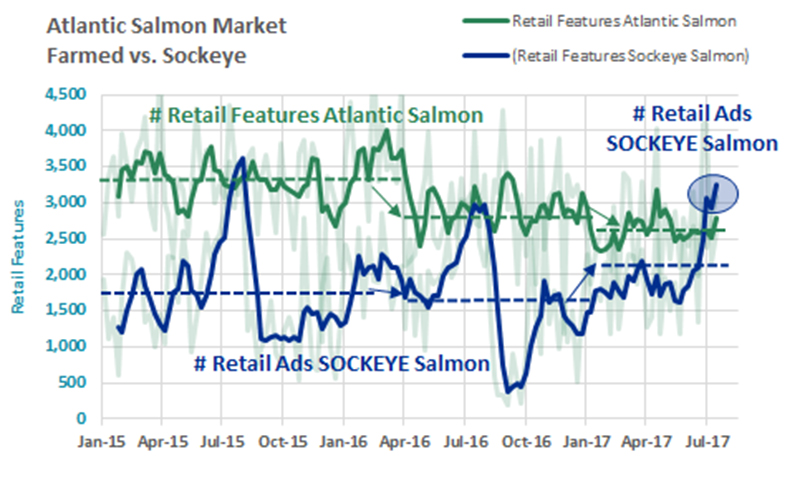 Chart: Analysis of Retail Salmon Promtions by A. Rubio, Urner Barry Analytics
Retail promotion of Atlantic salmon has been declining year by year in reaction to a sustained period of high farmed salmon prices.  By contrast, wild sockeye salmon promotions have gone up significantly in 2017, using both frozen inventory from last year, and current season production.
The first two weeks in July saw over 4000 buying opportunities per week across the US with sockeye salmon promotions.  Even during the big run of 2015, this was achieved for a single week only.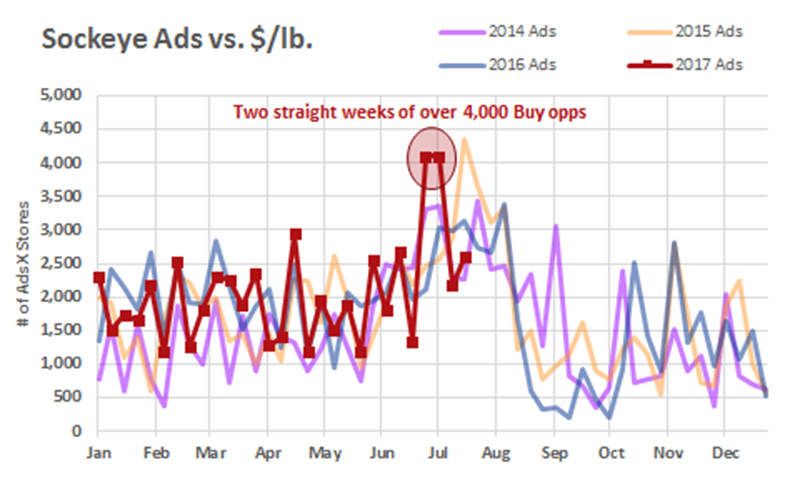 Chart: Numbers of Retail Sockeye Adds Best in 4 Years by A. Rubio, Urner Barry Analytics
Currently fresh farmed salmon prices are under strong downward pressure as ramped up production is finally exceeding current retail demand.
The farmed producers are lowering prices and begging for more retail support, according to analysts.  Supermarkets are likely to respond to these inducements and increase their promotions as prices continue to fall.
But in the meantime, it is an excellent summer selling season for sockeye salmon, which is averaging a retail promotional price of $10.49 vs. $9.99 last year, and is pulling similar to higher volume to boot.
http://www.seafoodnews.com/Story/1070434/Surging-Sockeye-Leads-to-Jump-in-Retail-Promotions-in-July-Outstripping-Farmed-Salmon

Environment/Science
Ocean still reeling from several rough years
Researchers notice changes to birds, fish
Daily Astorian by Katie Frankowicz – July 28, 2017
Not long into a survey cruise off the Oregon Coast in June, National Oceanic and Atmospheric Administration fisheries biologist Jen Zamon began to wonder, "Where are all the birds?"
http://www.dailyastorian.com/Local_News/20170728/ocean-still-reeling-from-several-rough-years
FYI's
Workers from Houston area stuck on fishing vessel in Alaska
KTRK by Kevin Quinn – August 01, 2017
HOUSTON, Texas — At least 14 people from the Houston area are hoping Wednesday brings a return flight to home.
http://abc13.com/local-workers-stuck-on-fishing-vessel-in-alaska/2268056/
Ann Owens
Pacific Seafood Processors Association
Office Manager
1900 W Emerson Place Suite 205, Seattle, WA 98119
Phone: 206.281.1667
E-mail: pspafish@gmail.com; Website: www.pspafish.net
Our office days/hours are Monday-Friday
8:00 A.M. – 5:00 P.M.
In accordance with Title 17 U.S.C. Section 107, any copyrighted work in this message is distributed under fair use without profit or payment to those who have expressed a prior interest in receiving this information for non-profit research and educational purposes only. *Inclusion of a news article, report, or other document in this email does not imply PSPA support or endorsement of the information or opinion expressed in the document.