Alaska/Pacific Coast
Alaska Fisheries Report
KMXT by Kayla Desroches – August 3, 2017
On this week's Alaska Fisheries Report, anywhere from 30 to 50 vessels hunted a whale on the Kuskokwim River. But the animal turned out to be a grey whale, a species protected under federal law.
http://kmxt.org/2017/08/alaska-fisheries-report-august-03-2017/
56.2 million: Bristol Bay 2017 fourth biggest total run, fourth biggest harvest ever
While the count is not officially complete, the 56.2 million total run is bigger than all recorded years but 1980, 1995, and 2015. The harvest of 37.5 million is bested only by 1993, 1996, and 2016.
KDLG by Dave Bendinger – August 4, 2017
The state has put a preliminary tally of 56.2 million on this year's total Bristol Bay sockeye salmon run. That's about 35 percent bigger than the preseason forecast of 41.5 million. The harvest for now stands at 37.5 million, which is 10 million more than was expected.
http://kdlg.org/post/562-million-bristol-bay-2017-fourth-biggest-total-run-fourth-biggest-harvest-ever
Politics
Senate passes bi-partisan bill to protect crab fishing industry
The Daily News – August 6, 2017
A bi-partisan backed bill aimed at strengthening and protecting the state's crab fishing industry could soon become law.
http://tdn.com/news/local/senate-passes-bi-partisan-bill-to-protect-crab-fishing-industry/article_ca36d9ca-8ac3-5054-a1d4-88da5bb011f0.html
International
Weaker US Dollar Roiling Seafood Imports, Putting Pressure on Lobster, Crab and Shrimp Producers
SEAFOODNEWS.COM by John Sackton – August 8, 2017
Suddenly currency swings are back in the news again.  After a period of dollar strength, that contributed to record seafood imports of commodities like shrimp and salmon in 2016, the dollar has reversed course, and has fallen about 7% since January of this year against a composite of foreign currencies.
This kind of change in currency values can have a big impact on profitability for overseas exporters to the US.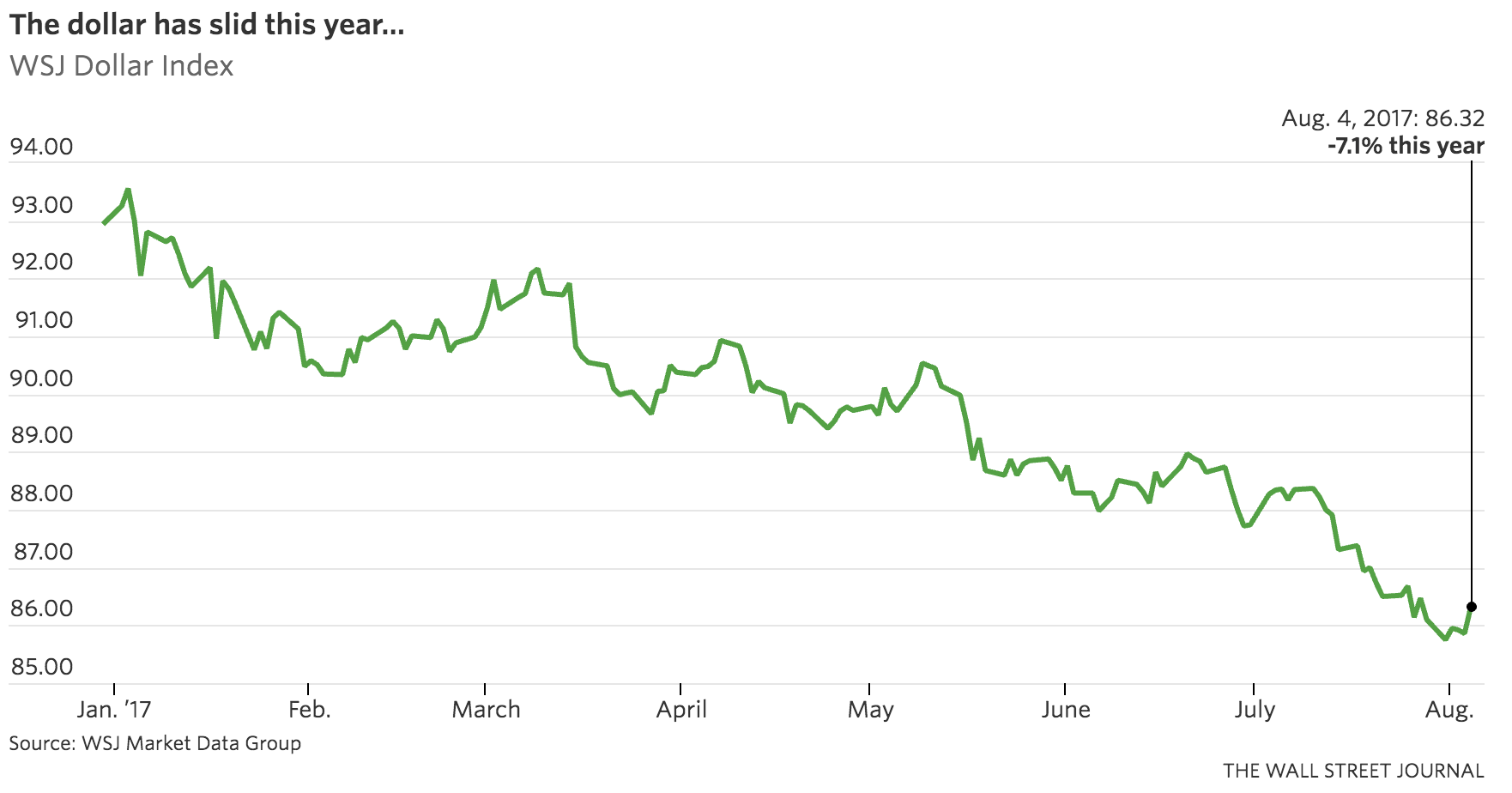 Wall St. Journal Chart of Dollar vs. International Currencies since January
Take Lobster and Canadian snow crab for example.  From May 1st until July 31st, the Canadian dollar has strengthened from $1.35 to $1.25, a change of nearly 7.5%.
Geoff Irvine, Executive Director of the Lobster Council of Canada noted, "A strong dollar is the last thing we want as exporters of Canadian seafood products. Our live and processed lobster products are generally priced in U.S. dollars and while some exporters are able to hedge and buy forward currency contracts, many remain at the mercy of changes to the value of the Canadian dollar that are out of their control".
Canadian live and processed lobster exporters maintain inventory through periods of minimal fishing activity and therefore are subject to changes in the value of their inventory based on currency fluctuations, especially when they occur in such a short period of time.
Stewart Lamont, Managing Director of Tangier Lobster Company, a live lobster exporter, said, " Currency exchange is a key variable for international trade. On this one, the lobster industry lost badly. "
On behalf of the lobster processing sector, Jerry Amirault, President of the Nova Scotia/New Brunswick Lobster Processors Association, said, "This is hurting the lobster industry, the communities in which the plants operate and the whole Atlantic region."
With a slow pace of landings this spring, lobster prices to harvesters have been at one of their highest levels in years, both in the US and Canada.  Now Canadian lobster ccompanies have these sunk costs for their raw materials, and their market return is down 7% before any price changes.
And the seasonality of lobster pricing means that the lowest prices of the year will occur in the next four months.  So the currency swing will be a significant blow to both live shippers, and to processors who have just begun to see a recovery in tail prices.
The same dynamic applies to snow crab. One of the biggest market questions is who is holding crab in inventory right now, as prices have jumped up as the season has ended.  Normally snow crab prices rise in the months between August and December, as harvesting has ended and there is little new product on the market.  But the market may be resisting some of these higher prices, and now the Canadian producers may have less leverage to make up for the dollar shortfall.
The dollar is also affecting Shrimp.  Import figures released yesterday show shrimp imports continuing to run ahead of last years record setting pace, with shipments through the first half of the year up 1.6%.
But India and Ecuador, the two top suppliers to the US market in 2017, face very different dollar pressures.  Ecuador has always priced its shrimp in dollars, so a weaker dollar will not only not impact Ecuador shipments to the US, but will likely accelerate Ecuador's shipments to Asia and Europe, who will in effect see lower prices.
But India, which is highly dependent on the US market, will see the opposite effect.  The rupee has strengthened against the dollar by about 6.6% since January, going from 68.1 rupees per dollar to 63.8, with forecasters saying it will go to 60 per dollar by the end of this year.
Here the reasons are mostly due to the strengthening of the Indian economy, and favorable interest rates, and these trends are projected to continue.
This has meant that Indian shrimp packers are feeling pressure to raise prices if possible, as their returns on dollar sales have fallen 6% to 7%.
The upshot is that many of the major imported seafood commodities will see pressure from producers to raise prices, at a time when markets are mostly moving in the other direction due both to seasonal and production factors.
Salmon will not be significantly impacted from Canada, because the Canadians price all their salmon in $US currency.  But salmon from Europe will become less attractive as exporters to the US will struggle to maintain their margins in a falling market.  The currency swing amplifies the impact of declining fresh and frozen salmon prices.
For Alaska, the weaker dollar is a boon to exporters.  It will help pollock sales recover in Europe, and will make sockeye less expensive.  It will help with sales to Japan, although Japanese currency has been more stable against the US dollar this year than many other currencies.
Most analysts expect the US dollar to continue to weaken and so these trends with their positive and negative impacts on different seafood sectors will likely shape markets through the end of the year.
http://www.seafoodnews.com/Story/1071424/Weaker-US-Dollar-Roiling-Seafood-Imports-Putting-Pressure-on-Lobster-Crab-and-Shrimp-Producers
Labeling and Marketing
Unlabelled, 'unsustainable' Russian sockeye being sold in Vancouver markets
Advocates urge consumers to ask sellers where their fish is coming from
CBC News by Jon Hernandez – August 5, 2017
The Fish Counter's Mike McDermid knows he won't be selling wild Fraser River sockeye anytime soon.
http://www.cbc.ca/news/canada/british-columbia/unlabelled-unsustainable-russian-sockeye-being-sold-in-vancouver-markets-1.4233058
Federal Register
Fisheries of the Exclusive Economic Zone Off Alaska; Integrating Electronic Monitoring Into the North Pacific Observer Program
A Rule by the National Oceanic and Atmospheric Administration on 08/08/2017
Groundfish of the Bering Sea and Aleutian Islands Management Area and Amendment 104 to the Fishery Management Plan for Groundfish of the Gulf of Alaska (collectively referred to as the FMPs). Amendments 114/104 and this final rule integrate electronic monitoring (EM) into the North Pacific Observer Program (Observer Program). This final rule establishes a process for owners or operators of vessels using nontrawl gear to request to participate in the EM selection pool and the requirements for vessel owners or operators while in the EM selection pool. This action is necessary to improve the collection of data needed for the conservation, management, and scientific understanding of managed fisheries.
https://www.federalregister.gov/documents/2017/08/08/2017-16703/fisheries-of-the-exclusive-economic-zone-off-alaska-integrating-electronic-monitoring-into-the-north
Opinion
Opinion: Immigration fight cripples Alaska fishing as foreign help vanishes
Alaska Dispatch News by Dermot Cole – August 7, 2017
Not many Americans want to spend the summer processing seafood in Alaska for 16 hours a day, seven days a week, earning $10 an hour straight time and $15 an hour overtime.
https://www.adn.com/opinions/2017/08/05/immigration-fight-cripples-alaska-fishing-as-foreign-help-vanishes/

Ann Owens
Pacific Seafood Processors Association
Office Manager
1900 W Emerson Place Suite 205, Seattle, WA 98119
Phone: 206.281.1667
E-mail: pspafish@gmail.com; Website: www.pspafish.net
Our office days/hours are Monday-Friday
8:00 A.M. – 5:00 P.M.
In accordance with Title 17 U.S.C. Section 107, any copyrighted work in this message is distributed under fair use without profit or payment to those who have expressed a prior interest in receiving this information for non-profit research and educational purposes only. *Inclusion of a news article, report, or other document in this email does not imply PSPA support or endorsement of the information or opinion expressed in the document.