Alaska/Pacific Coast
Gulf to receive fishery disaster recovery funds, unclear when
KMXT by Kayla Desroches – February 20, 2018
The president signed a bill this month that directs recovery funds to fisheries disasters on the West Coast, including in Alaska, but it's still unclear how the limited funds will be distributed.
http://kmxt.org/2018/02/gulf-receive-fishery-disaster-recovery-funds-unclear/

Cordova Chronicles: Say a 'Hail Mary' for hatcheries
Cordova Times by Dick Shellhorn – February 17, 2018
Now is the time of year when Cordova's fishing fleet sits idle.
In the harbor, vessels of a flotilla that drives the local economy move up and down with the tides. Others, covered with tarps that flap in the wind, stand dormant in boatyards.  A few fortunate ones ignore the elements in the safe confines of warehouses.
https://www.thecordovatimes.com/2018/02/17/cordova-chronicles-say-hail-mary-hatcheries/
Price Gap Between Russian Red and Golden King Crab at Historic Levels
SEAFOODNEWS.COM by Janice Schreiber – February 21, 2018
The current market for king crab has been somewhat stagnant.
Although overall pricing for smaller Russian red king crab is roughly $2.00 per pound less than in 2017, pricing is still roughly $3.00 more than where it was in 2015. Demand for smaller crab is fair to moderate currently.
A trend though, which has not been seen in several years, is the price difference between red and golden Russian king crab. Usually the price difference is around $0.50 to sometimes close to a $1.00, but currently the market is seeing a much larger difference. The gap between the Russian red and golden 20-24s stands presently at $2.75; which is extremely large historically speaking.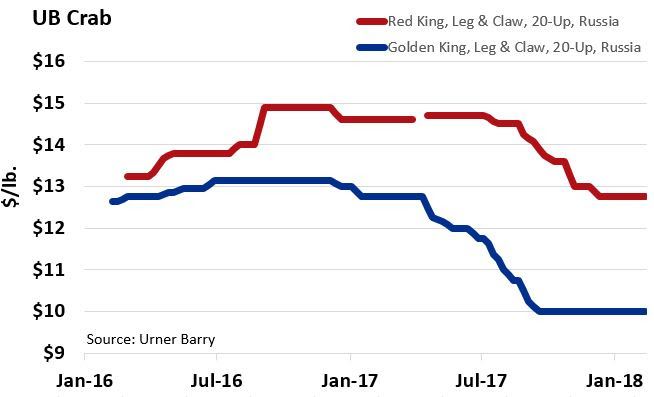 Market participants have also reported that the demand for golden king crab is more active than for red and one would assume that a reason is mostly likely due to the larger price difference. Going forward, we'll see if the market begins to correct itself. There is some downward pricing pressure on Russian red 20-24s and lower offerings are noted presently in the market.
http://www.seafoodnews.com/Story/1092879/Price-Gap-Between-Russian-Red-and-Golden-King-Crab-at-Historic-Levels
Politics
Alaska Fisheries Trust Bill Supported During First House Hearing
SEAFOODNEWS.COM by Peggy Parker – February 21, 2018
A bill that gives critical support to young people entering the "graying" Alaska fishing fleet, received enthusiastic support yesterday at its first hearing in the Alaska House.
HB188, sponsored by Rep. Jonathan Kreiss-Tomkins, "establishes regional fisheries trusts, to provide a mechanism to help new fishermen enter Alaska fisheries."
That mechanism is a community entity, governed by a Board that is representative of the region, what would be able to hold permits and then temporarily transfer them to fishermen, offering a stepping stone between being a deckhand and owning an individual permit.
"Just as fishermen can temporarily emergency transfer limited entry permits, regional fisheries trusts can temporarily transfer permits to fishermen wanting to fish in the region. A fisherman can fish a temporarily transferred permit for up to six years," explained Kreiss-Tomkins.
Kim Reitmeier Executive Director of ANCSA Regional Association (which represents the CEOS of the 12 regional corps and 127,000 shareholders) strongly supported the bill.
"We stand together in support of HB 188," Reitmeier said. "The ANSCA CEOs know their communities and the history of those communities. Many of these communities had thriving fishing communities that are not anymore. The fisheries trust will provide better oportunities to get into fisheries. It is a self-sustaining economic tool that once set up can operate on their own."
Reitmeier was joined by experienced fishermen from Southeast Alaska, Cordova in Southcentral, and Dillingham, in Western Alaska, all supporting the swift passage of the bill.
"Fisheries trusts offer fishermen the opportunity to skipper a boat and gain confidence, experience, and resources, better situating them to make the six-figure decision to finance a permit and become an independent fisherman and small business owner," he wrote.
There is a firm cap on the number of permits a fisheries trust can acquire, to protect against distortion of the permit market.
Somewhat similar to regional nonprofit aquaculture associations, trusts are regionally governed, in order to be responsive to the needs of local communities and fishermen. Similar to and complementing the hugely successful Commercial Fishing Revolving Loan Fund, trusts connect fishermen with the resources they need to start a business as the field becomes more and more capital-intensive.
The idea has been around for three years, two years in the public to get input and provide information.
Krieiss-Tompkins says "Fisheries trusts are not a silver bullet: they offer an innovative and common sense tool for fishing communities to help fishermen convert their work ethic, responsibility, and fishing skills into economic opportunity."
If you have questions, comments, or concerns, contact Reid Magdanz in the office of Rep. Kreiss-Tomkins by phone 465.3306 or Reid.Magdanz@akleg.gov .
http://www.seafoodnews.com/Story/1092989/Alaska-Fisheries-Trust-Bill-Supported-During-First-House-Hearing
Environment/Science
Official: EPA to seek protections in Alaska mine permit
The Cordova Times by Becky Bohrer, Associated Press – February 19, 2018
JUNEAU — The company that wants to build a copper and gold mine near a major Alaska salmon fishery should receive strict scrutiny because of the fishery's cultural and economic importance, a regional U.S. Environmental Protection Agency official said Wednesday.
https://www.thecordovatimes.com/2018/02/19/official-epa-seek-protections-alaska-mine-permit/
Federal Register
Western Pacific Fishery Management Council; Public Meetings
A Notice by the National Oceanic and Atmospheric Administration on 02/20/2018
The Western Pacific Fishery Management Council (Council) will hold its Social Science Planning Committee (SSPC) meeting, 128th Scientific and Statistical Committee (SSC) meeting, 172nd Council meeting and its associated meetings to take actions on fishery management issues in the Western Pacific Region. A portion of the Council's Executive, Budget and Legislative Standing Committee meeting will be closed to the public.
https://www.federalregister.gov/documents/2018/02/20/2018-03413/western-pacific-fishery-management-council-public-meetings
Ann Owens
Pacific Seafood Processors Association
Office Manager
1900 W Emerson Place Suite 205, Seattle, WA 98119
Phone: 206.281.1667
E-mail: pspafish@gmail.com; Website: www.pspafish.net
Our office days/hours are Monday-Friday
8:00 A.M. – 5:00 P.M.
In accordance with Title 17 U.S.C. Section 107, any copyrighted work in this message is distributed under fair use without profit or payment to those who have expressed a prior interest in receiving this information for non-profit research and educational purposes only. *Inclusion of a news article, report, or other document in this email does not imply PSPA support or endorsement of the information or opinion expressed in the document.