International
New maps show the utterly massive imprint of fishing on the world's oceans
Washington Post by Chris Mooney and Brady Dennis – February 22, 2018
Humans are now fishing at least 55 percent of the world's oceans — an area four times larger than the area occupied by humanity's onshore agriculture.
https://www.washingtonpost.com/news/energy-environment/wp/2018/02/22/new-maps-show-the-utterly-massive-imprint-of-fishing-on-the-worlds-oceans/?utm_source=rss_energy-environment&utm_term=.1ca0572ecb3b
Media Fails Again on Fisheries Data; New Maps Don't Show Intensification of Fishing – Hilborn
SEAFOODNEWS by John Sackton – February 26, 2018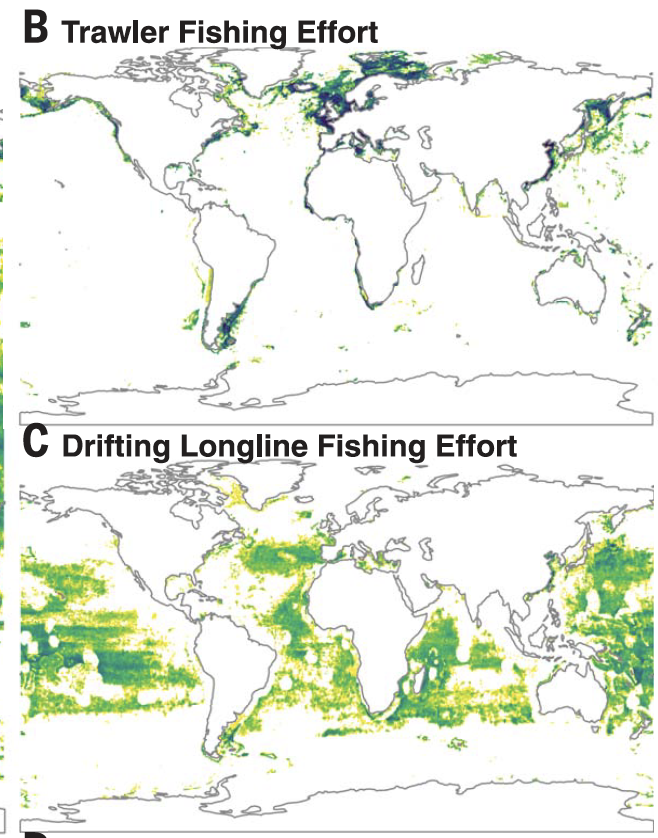 The lead article in Science this week, picked up in numerous publications, highlighted data from the AIS vessel tracking system to show the global impact of industrial fishing.
The authors state that vessels are now fishing in 55% of the world's oceans, which is an area four times larger than occupied by onshore agriculture.
The immediate popular conclusion was that this shows immense overfishing, and Oceana was quoted saying "That means we're putting more pressure on fish populations."
But that is not what the data show.  As pointed out consistently by Professor Ray Hilborn of the University of Washington, the comparison with agriculture is simply wrong.Hilborn says "The comparison to agriculture fails to note that the 50 million square kilometers under agriculture have destroyed the natural ecosystem as the plow or new pasture eliminates the native plants.   The areas fished, particularly for tunas, have changed very little."
Furthermore,  "Fishing does not impact the primary production (plants), and in very few cases does it impact the species that graze on the primary producers.  So the 50 million square kilometers of the earths' surface that is used for agriculture is totally transformed,  most of the oceans that are being fished (high seas tuna)  have some changes in top predators abundance. "
Hilborn points out that "High seas fishing for tuna, which constitutes the majority of the "footprint" shown in the Science paper has been mapped for 40 years, and the widespread nature of high seas tuna fishing is well known.  The footprint of bottom trawlers has been mapped in much finer scale already in many places, and the Science paper overestimates the proportion of the seabed impacted by trawls by 10 fold."
The AIS data is interesting, and allows for specific types of research that was not possible before.  However, the dataset does not give as accurate a picture of global fishing as does the comprehensive database on fish stock surveys and catch records.
Hilborn says "For most of the areas where there are data in this study,  fish stocks are actually increasing and tuna populations are well documented and globally stable."
Hilborn is a longtime collaborator with Dr. Boris Worm, one of the authors of the paper.  Together they did a groundbreaking study of global fisheries databases, and helped create a standard dataset to measure fisheries catches and stock health.  Neither Worm nor the other authors are claiming that the AIS study shows increased fishing pressure on stocks, they are simply reporting that the tracking data provides a new visualization tool for global fisheries.
http://www.seafoodnews.com/Story/1093498/Media-Fails-Again-on-Fisheries-Data-New-Maps-Dont-Show-Intensification-of-Fishing–Hilborn
Labeling and Marketing
3MMI – Get Ready For A Salmon Inventory Rollercoaster
TradexFoods – February 26, 2018
3MMI — Chum salmon is expected to have a bumper year in the Prince William Sound, with a commercial common property wild production harvest forecast of 391,000 chum salmon. Chum salmon inventories, however, are very low for headed and gutted offers, but fillets can still be found. For Pink salmon, there is little to nothing in the way of inventories on both fillets and H&G…
https://www.youtube.com/watch?v=zY8-B01xtpI
FYI's
Pacific Marine Expo Seeking Proposals for 2018 Event
SEAFOODNEWS.COM – February 26, 2018
Pacific Marine Expo, the largest commercial fishing and marine tradeshow on the West Coast, is seeking "compelling content and engaging speakers" for their 2018 event.
The Pacific Marine Expo is geared towards those that make their living on the water, and offers a variety of educational sessions for the Pacific Northwest's commercial marine industry. To continue educating attendees, the editors of National Fishermen and Workboat Magazine are looking for interesting new proposals.
Possible topics for the 2018 educational program include safety issues, technology updates, regulations, marketing and selling, boat building, crew assets, climate change, insurance and more.
The 2018 Pacific Marine Expo will take place at the Centurylink Field Event Center in Seattle, Washington, in November. Proposal submissions are due by Friday, March 16. Find more information on the call for proposals here.
http://www.seafoodnews.com/Story/1093494/Pacific-Marine-Expo-Seeking-Proposals-for-2018-Event

Ann Owens
Pacific Seafood Processors Association
Office Manager
1900 W Emerson Place Suite 205, Seattle, WA 98119
Phone: 206.281.1667
E-mail: pspafish@gmail.com; Website: www.pspafish.net
Our office days/hours are Monday-Friday
8:00 A.M. – 5:00 P.M.
In accordance with Title 17 U.S.C. Section 107, any copyrighted work in this message is distributed under fair use without profit or payment to those who have expressed a prior interest in receiving this information for non-profit research and educational purposes only. *Inclusion of a news article, report, or other document in this email does not imply PSPA support or endorsement of the information or opinion expressed in the document.