Alaska/Pacific Coast
Exvessel value for Togiak sac roe herring fishery estimated at $1.65 million
The Alaska Department of Fish and Game takes a look back at this year's Togiak herring fishery.
KDLG by Mitch Borden – June 6, 2018
The Alaska Department of Fish and Game released its 2018 Togiak Herring Season Summary on Monday, looking back on the season's harvest and estimating the exvessel value. Bad weather and rough seas drug out the season for the state's largest herring fishery, but fishermen were still able to take the full quota.
http://kdlg.org/post/exvessel-value-togiak-sac-roe-herring-fishery-estimated-165-million
A slow start to Kodiak's salmon season, commercial opening this weekend
KMXT by Daysha Eaton – June 7, 2018
Kodiak's salmon season is off to a slow start. Until Wednesday, very few fish were counted in weirs.
http://kmxt.org/2018/06/slow-start-kodiaks-salmon-season-commercial-opening-weekend/
ANALYSIS: With Surimi Shortage, and Less Cod, Pollock Block B Season Prices Back up to 2014 Level
SEAFOODNEWS.COM by John Sackton and Lorin Castiglione – June 8, 2018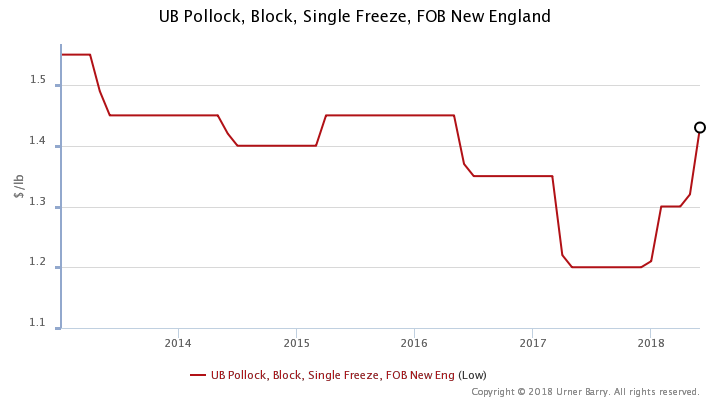 Pollock block prices have risen back to their levels of four years ago, amid a number of market factors pushing pollock block prices higher.
This week, Urner Barry increased their US quote for PBO pollock blocks ten cents, to $1.48.  This is equivalent to over $3250 per metric ton.  Deep skin block prices have come up as well.
B season production is just getting underway, and for a variety of reasons, producers are focusing on surimi.  It appears that the proportions of surimi vs. deep skin and regular block will shift further toward surimi.
As of this week, which includes A season production as well, the percentage of surimi is 58%, with 42% going to pbo block and deep skin, compared to 2017 when for the full year, only 52% of the total went to surimi.
The more attractive pricing on surimi comes from the fact that there was a major shortfall in southeast asian surimi production last year, as much as 50,000 tons or more.  This is sometimes attributed to overfishing, but another factor was the intense typhoon season, which saw 15 names storms, compared to prior year averages of 7 or 8.
This cuts into fishing time significantly.  Most surimi raw material in Asia is from bycatch, so if boats aren't fishing, or if the price of fuel is high, the supply is not there.
In addition, there is a surge in surimi consumption within the producing countries as well.  All of this has made the stabiity and quality of Alaska pollock surimi highly desireable, and prices have come up accordingly.  SA grade alaska pollock surimi is currently priced around Y 465 /kg.
The high prices for cod and haddock are also having some impact.  There have been increasing efforts to market pollock products as center of the plate whitefish in various product forms beyond the traditional McDonald's fish sandwich.  Producers say they are seeing some movement towards more use of pollock in other applications.
Overall, this is a substantial increase over the A season price, which was been reported around $3000 per ton.
https://www.seafoodnews.com/Story/1106223/ANALYSIS-With-Surimi-Shortage-and-Less-Cod-Pollock-Block-B-Season-Prices-Back-up-to-2014-Level
2018 Southeastern Bering Sea Shelf Bottom Trawl Survey Gets Underway
Questions loom large about the annual extent of cold water in the Southeastern Bering Sea.
NOAA Fisheries – May 30, 2018
Researchers are curious to see if they will come across a "cold pool" during this year's annual Southeastern Bering Sea Shelf Bottom Trawl Survey given the unusually warm winter and the limited sea ice coverage in 2017/2018. They suspect they might not, and that would be a first.
https://www.fisheries.noaa.gov/feature-story/2018-southeastern-bering-sea-shelf-bottom-trawl-survey-gets-underway
National
McDonald's Uses Its Scale for Good to Advance Fish Sustainability 'Reel It In!' Card Game Aims to Educate Children on Sustainable Fishing
Seafood Source by Jackie Marks, Marine Stewardship Council – June 7, 2018
The following was released by the Marine Stewardship Council:
McDonald's is using its size and scale to advance sustainable fish sourcing as the industry standard, helping to protect long-term fish supplies and help improve the health of surrounding marine ecosystems.
https://www.savingseafood.org/news/conservation-environment/mcdonalds-uses-its-scale-for-good-to-advance-fish-sustainability-reel-it-in-card-game-aims-to-educate-children-on-sustainable-fishing/?utm_source=feedburner&utm_medium=email&utm_campaign=Feed%3A+SavingSeafoodRss+%28Saving+Seafood%29

International
Alaska seafood industry hopes to triple exports to China after trade mission
KTUU by Blake Essig – June 06, 2018
SHANGHAI, China (KTUU) – Seafood is Alaska's largest commodity, and China is the state's largest trading partner. In 2017, the Alaska Office of International Trade reports Alaska exported about a billion dollars worth of seafood to China, a figure Governor Bill Walker would like to triple.
http://www.ktuu.com/content/news/Alaska-seafood-industry-hopes-triple-exports-china-trade-mission-484770991.html
Labeling and Marketing
3MMI – The 2018 Seafood Market Halfway-mark Report
TradexFoods – June 11, 2018
3MMI — In this week we take a review of the seafood industry halfway through the year. The recurrent theme so far in 2018 is the rising price of whitefish. Both Pacific and Atlantic Cod raw materials have seen a steady incline since the beginning of the year…
https://www.youtube.com/watch?v=w1GdR8Jq9FQ
Ann Owens
Pacific Seafood Processors Association
Office Manager
1900 W Emerson Place Suite 205, Seattle, WA 98119
Phone: 206.281.1667
E-mail: pspafish@gmail.com; Website: www.pspafish.net
Our office days/hours are Monday-Friday
8:00 A.M. – 5:00 P.M.
In accordance with Title 17 U.S.C. Section 107, any copyrighted work in this message is distributed under fair use without profit or payment to those who have expressed a prior interest in receiving this information for non-profit research and educational purposes only. *Inclusion of a news article, report, or other document in this email does not imply PSPA support or endorsement of the information or opinion expressed in the document.