Alaska/Pacific Coast
After bumper years, fewer reds forecast
Alaska Journal of Commerce by DJ Summers – March 30, 2016
The Alaska Department of Fish and Game has released statewide forecasts for salmon, and 2016 promises fewer fish than last year's price-deadening sockeye glut.
http://www.alaskajournal.com/2016-03-30/after-bumper-years-fewer-reds-forecast#.Vv09Wz9OGC4

BBRSDA funding diverts need for Bristol Bay cost recovery fishery, for now
KDLG by Molly Dischner – March 30, 2016
Bristol Bay fisheries management will receive extra funding from a regional fisheries group this summer but long-term funding remains up in the air.
http://kdlg.org/post/bbrsda-funding-diverts-need-bristol-bay-cost-recovery-fishery-now
Decimated Fish Populations Could Double Across the World by 2050 With Industry Reform
Newsweek by Christina Procopiou – March 29, 2016
In 2000, the West Coast fishery for groundfish, such as rockfish and sole, was declared a federal economic disaster. Years of overfishing and declined productivity had led to record-low harvests for some fish and market gluts for others. By all accounts, the industry was dead in the water.
http://www.newsweek.com/decimated-fish-population-could-double-2050-industry-reform-441886
Environment/Science
How Our Favorite Fish Could Recover in a Decade
Here's how the world's depleted fish populations could be turned around.
National Geographic by Brian Clark Howard – March 28, 2016
After decades of declines, most of the world's fish populations could recover in just ten years, while fishermen make more money at the same time, scientists reported in a new study published Monday.
http://news.nationalgeographic.com/2016/03/160328-fisheries-reform-catch-shares-fishing-science-conservation/
Labeling and Marketing
Walker appoints two Alaskans to ASMI board
The two newest members of the Alaska Seafood Marketing Institute board of directors are Alaskans who represent large processors.
KDLG by Molly Dischner – March 30, 2016
The Alaska Seafood Marketing Institute has two new members representing large processors.
http://kdlg.org/post/walker-appoints-two-alaskans-asmi-board
New Report Hopes to Inspire Confidence in Fish Sales
The Fish Site – March 31, 2016
US – The Marine Stewardship Council (MSC) has released details about its most recent DNA test results that show 99.6 per cent of MSC labeled products are correctly labeled. At a time when consumer concerns over seafood fraud and traceability have reached an all-time high, MSC hopes the report will inspire confidence at the point of sale.
http://www.thefishsite.com/fishnews/27371/new-report-hopes-to-inspire-confidence-in-fish-sales/
Federal Register
Fisheries of the Exclusive Economic Zone Off Alaska; Pollock in Statistical Area 610 in the Gulf of Alaska
A Rule by the National Oceanic and Atmospheric Administration on 03/30/2016
NMFS is prohibiting directed fishing for pollock in Statistical Area 610 in the Gulf of Alaska (GOA). This action is necessary to prevent exceeding the B season allowance of the 2016 total allowable catch of pollock for Statistical Area 610 in the GOA.
https://www.federalregister.gov/articles/2016/03/30/2016-07129/fisheries-of-the-exclusive-economic-zone-off-alaska-pollock-in-statistical-area-610-in-the-gulf-of?utm_campaign=subscription+mailing+list&utm_medium=email&utm_source=federalregister.gov
FYI's
Cannery history, salmon label trash bins to pop up in Petersburg
KFSK by Joe Viechnicki – March 30, 2016
Keep an eye out this year around Petersburg, you might notice some new public garbage cans appearing in prominent places. The trash bins feature historic salmon and seafood canning labels and they're part of a larger effort to display some of the history of the industry that built this town.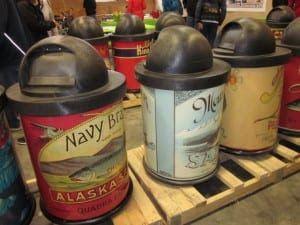 Another receptacle has the label of Icicle salt codfish.
http://www.kfsk.org/2016/03/30/cannery-history-salmon-label-trash-bins-to-pop-up-in-petersburg/
Ann Owens
Pacific Seafood Processors Association
Office Manager
1900 W Emerson Place Suite 205, Seattle, WA 98119
Phone: 206.281.1667
E-mail: pspafish@gmail.com; Website: www.pspafish.net
Our office days/hours are Monday-Friday
8:00 A.M. – 5:00 P.M.
In accordance with Title 17 U.S.C. Section 107, any copyrighted work in this message is distributed under fair use without profit or payment to those who have expressed a prior interest in receiving this information for non-profit research and educational purposes only. *Inclusion of a news article, report, or other document in this email does not imply PSPA support or endorsement of the information or opinion expressed in the document.