Alaska/Pacific Coast
Purse seine fishery closes, gillnetting still on
Cordova Times – May 9, 2017
Purse seine harvests in the Togiak herring fishery have ended, but the gillnet fishery remained in progress early this week, the Alaska Department of Fish and Game said.
http://www.thecordovatimes.com/2017/05/09/purse-seine-fishery-closes-gillnetting-still/
National
NOAA Fisheries Releases Fisheries Economics of the U.S. and Status of Stocks Reports
NOAA – May 9, 2017
Today, NOAA Fisheries announced the release of two new reports: the Annual Report to Congress on the Status of U.S. Fisheries and the 2015 Fisheries Economics of the United States Report. These reports highlight the continued rebuilding and recovery of U.S. fisheries and the broad economic impact of commercial and recreational fisheries on the U.S. economy.
http://www.fisheries.noaa.gov/stories/2017/04/05_feus_sos_reports.html
US Seafood Industry Accounted for 1.6 Million Jobs in 2015; Above 5-Year-Average
SEAFOODNEWS.COM by Michael Ramsingh – May 10, 2017
The US commercial and recreational seafood industry accounted for 1.6 million jobs across the country in 2015 according to NOAA's annual Fisheries Economics of the United States report, which was released this week.
Of those jobs the commercial seafood industry supported 1.2 million full and part-time jobs and generated $144.2 billion in sales, $39.7 billion in income, and $60.6 billion in value-added impacts nationwide. The retail sector generated the largest employment impacts across sectors at 573,000 jobs. The importers sector generated the largest sales impacts at $58.3 billion while the retail sector generated the largest income impacts at $13.3 billion. Meanwhile, the retail sector generated the largest value-added impacts at $18.2 billion.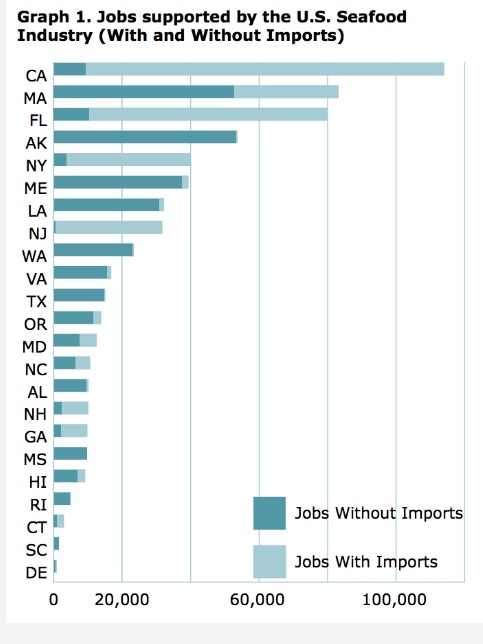 These figures were above the five-year-average for the industry NOAA said in its report.
"US fisheries are big business," said Samuel Rauch, acting assistant administrator for NOAA Fisheries. "Sustainable management of our nation's fisheries, supported by sound science, opens up economic opportunities to Americans along the supply chain – from buying bait at a local marina to enjoying a seafood dinner."
John Connelly, President of the National Fisheries Institute added: "NOAA's reports demonstrate the importance of seafood, both domestic and imported, to the economy and serves to highlight the more than 1.6 million jobs supported by all seafood."
Meanwhile, US fisheries continued to rebuild, with the number of stocks on the overfishing and overfished lists remaining near all-time lows. Four stocks came off the overfishing list, while six stocks were added to the overfishing list. There were no changes to the list of overfished stocks in 2016. Two additional stocks — barndoor skate in Georges Bank/Southern New England and albacore in the North Atlantic — were rebuilt in 2016, bringing the total stocks rebuilt since 2000 to 41.
"The Status of the Stocks report continues to illustrate the benefits of a world class sustainability oversight system based on science. A commitment to sustainability, employment and trade, that fuels America's growing appetite for seafood, is at the heart of NOAA's mission and the successes it has seen through the Magnuson Steven's Act," said Connelly.  "A continued emphasis on science-based management, sound business practices and responsible regulation will generate encouraging reports, like today's, for years to come."
http://www.seafoodnews.com/Story/1060956/US-Seafood-Industry-Accounted-for-1-point-6-Million-Jobs-in-2015-Above-5-Year-Average
Environment/Science
Sablefish genetics: Near Seattle, scientists look for easier ways to grow the fish
NOAA is studying ways to make it easier to commercially harvest the sablefish, prized for its flavor and as a possible solution to a worldwide demand for seafood
The Associated Press by Phuong Le – May 7, 2017
PORT ORCHARD — The dark-gray fish prized for its buttery flavor live deep in the ocean, so researchers keep their lab cold and dark to simulate ideal conditions for sablefish larvae.
http://www.seattletimes.com/nation-world/researchers-seek-better-ways-to-farm-sablefish/
Epic snow and rain help salmon now, but conflicts with hydropower lie ahead on Columbia River
This year's strong spring flows through the Columbia River come amid a high-stakes conflict over how much water should be used to help salmon migrate over the dams rather than run through hydroelectric turbines.
Seattle Times by Hal Bernton – May 7, 2017
CASCADE LOCKS, Oregon — In this year of epic snow and rain, the Columbia River is a formidable sight, thundering over spillways at Bonneville Dam to form a turbulent stretch of white water that courses toward the sea.
http://www.seattletimes.com/seattle-news/environment/salmon-hydropower-both-need-columbia-river-water-this-year-theres-plenty-but-conflict-lies-ahead/
In Remembrance
Alaska Fishing Icon Jim Beaton Remembered Fondly
SEAFOODNEWS.COM by Peggy Parker – May 9, 2017
James "Jim" Beaton, 80, an icon in the Alaska fishing industry, passed away on April 22, leaving a legacy that is hard to underestimate.
He was a founder of the United Fishermen of Alaska, served on the Board of Fish for a decade, shepherded limited entry legislation during a "civil war" that divided the industry, helped pass the state's private, non-profit hatchery legislation, and developed many fisheries.  His guiding principles were to protect the resource first and the fishermen second.
Born in Roseburg, OR, Beaton graduated from the University of Oregon where he attended on a wrestling scholarship and established himself as an accomplished athlete. He competed with team member Ken Kesey with whom he maintained a lifelong friendship.
Beaton was an adventurer who welcomed challenges throughout his life. His early adventurous spirit took him to a job constructing the Columbia River Interstate Bridge in Portland, OR; attending Thunderbird Graduate School in Phoenix, AZ; language school in Mexico City, and floating the Amazon River from its headwaters in Peru while handily declining an invitation to join Cuban revolutionary forces.
Then he came to Alaska in the late 1950s to fight forest fires and run a trap line in Southeast Alaska.
Alaska was Beaton's home for half of his life. Over several decades, Beaton's legacy was formed in the fields of politics, fishing and processing; from Southeastern to Adak, with many years in Bristol Bay and the Bering Sea. Beaton fished for herring, crab, cod and salmon.
Phil Daniels, who helped to form the United Fishermen of Alaska, said about Beaton "He was a world-class raconteur. His low rumbling delivery, the ever-present and often politically incorrect humor, and the frequent self-deprecation were irresistible."
Daniels remembers the original founding issue of UFA — locating the Alaska pipeline terminus in Valdez. Cordova fishermen wanted a statewide organization on behalf of all fishermen to oppose Valdez for the threat of a spill in Prince William Sound.
The UFA was unsuccessful on the pipeline terminus siting, but had a lot of legislative success early on.
"Alaska became the first state in the union to rationalize a fishery," said Daniels. "The Limited Entry bill was introduced by Governor Bill Egan and was passed in 1973, then it was successfully defended in a statewide referendum shortly there after."
"UFA got a lot of credit for the election of Jay Hammond as Governor in '74. UFA helped to pass the loan programs allowing fishermen to purchase boats and permits. We worked on the $600 million fisheries enhancement program which later morphed into the regional non-profit hatchery programs.
"Jim played a major role in all of the above. He was on good terms with many legislators. We used to joke about our "good cop bad cop"' routine. Jim never got the nickname 'gentle Jim'", said Daniels, "he would go into a legislative office and offer blunt and loud reasons as to why fishermen needed particular legislation. The next day I would drop by with a calmer appraisal asking for support in a more conciliatory tone. It was more of a joke between us, but in truth we used that approach on occasion.
"When Jim came to the end of his ten-year tenure on the Board of Fish he was presented with an honorary PhD in fisheries. It was given to him by the biologists, and other members of the board and friends he had worked with in the Fish and Game Department. I think it is the highest form of compliment. He was liked and respected greatly," Daniels said.
John Garner knew Beaton in the early days of the "Bored of Fish" meetings, as Beaton called them.
"Most stories about Jim I can't release for publication," Garner said. "Jim was always pushing the limit, taking on new adventures, and never satisfied with the past.  At Oregon State he somehow avoided becoming a member of Ken Kesey's   Merry Gang of Pranksters, but he blazed his own trail that was just as much fun and adventurous."
Once such prank was pulled on Bob Blake during a contentious issue being debated at the Board of Fish. Garner remembers it well.
"There was a hot issue over allocation of Prince William Sound herring.  All the herring were being taken in a winter bait trawl fishery, and one guy from Kodiak (Junior Cross) was taking most of it.  The Cordova locals were lobbying the Board hard to allocate the fish to a sac roe fishery and of course Junior didn't want his honey hole to be taken away.
"Bob Blake was head of Cordova District Fishermen United at the time, and was leading the charge.  At that time Jim had sold a Southeast permit for cash, as in greenbacks.  Blake was working Jim hard, so finally Jim told Blake to come up to his hotel room and they could talk about it.
"When they got in the room Jim pulled out this bag of cash and dumped it on the bed, and told Blake to top that and he could get what he wanted. Jim was of course just joking but it stopped Bob in his tracks for awhile," Garner said.
"Jim could be a little "rough" at times shall we say," Garner laughed.  He had an older home up some rickety stairs on Star Hill in downtown Juneau. "He used a wall for his telephone book, names and numbers written on the wall right above where the phone was placed.  I always joked that when he moved out he took the wall with him."
Beth Stewart recalls Jim's "lifelong love affair with phones" in a story that happened while she was Executive Director for the Board of Fish — before cell phones.
"We issued long distance phone cards to Board members so they could call and return calls for Board business. The bills came to my office. One day I really needed to reach Jim, but he was in Seattle, and I didn't have a number. So I pulled up a phone bill and found a frequently used number. I called it and a guy answered. I asked if Jim Beaton was there and was greeted by a longish silence. Next the guy says, 'Lady this is a pay phone at Fishermen's Terminal." So I said, "Well when you see Jim tell him to call Beth.'  He called about an hour later."
Stewart credits Beaton for passing along a fundamental belief on successful fisheries management.
"One of the most important things I learned from Jim, Blake, and John [Garner] was the importance of the separation of responsibilities and powers between the science, the administration, and the Board of Fish," she said.
"It's the base of my ideals for excellence in fisheries management. All three of them served the State's fisheries and fishermen well.
Dan Hanson met Beaton in 1988, when he and fishing partner Walter Christensen bought into Bristol Bay.
"Walter had talked his way into a high-powered group that Jim was a part of," Hanson said. "We'd both been fishing most of our lives and captains for many years in other fisheries but knew little or nothing about drift netting in the bay. We had our share of problems as most do, and I remember others in the group being less than helpful to say the least.
"Lucky for us Jim knew that we would eventually figure it out and took us under his wing. This was a true gift for Walter and me as Jim had been fishing in Bristol Bay for over 35 years and was one of the last people to have fished in a sailboat. The next season the three of us quit the group and started a new group," Hanson recalled.
"The thing that I admired most about Jim was his curiosity of each person that he met. He truly wanted to know your story no matter who you were. Because of this, he had the most diverse group of friends of anyone I had ever met. He could see something good in almost everyone," Hanson said.
"When Walter went into ICU with a slim chance of surviving Jim went to see him and wrote a eulogy to read at his funeral. Jim knew at the time that he had terminal cancer but was pretty sure he would outlive Walt. While several members in the room were talking about unplugging Walt and letting him pass he got so mad he woke up and started yelling at everyone.  Later that day, in true form, Jim changed the eulogy to his own name gave it to Walt and told him that he could use it at his funeral.
"Many would tell you that Jim was the toughest man they have ever met.," said Hanson. "All would say he's the most interesting but I'd have to say he was the coolest guy I've ever met and truly one of a kind. I will miss him immensely."
Jim is survived by his wife, Maggie Beaton of Mercer Island, WA; his sons Travis Beaton of New Orleans, LA, and Jay and Sam Beaton of Fairbanks, Ak; his older brothers Leslie Beaton of Eugene OR; and countless relatives and friends. He was preceded in death by his two sons, Andre ane Garett Beaton both also Alaskan commercial fisherman.
A public memorial service will be held in the near future. In lieu of flowers, the family suggests donations to the Providence Hospice of Seattle or the Seattle Fishermen's Memorial Fund.
http://www.seafoodnews.com/Story/1060730/Alaskan-Icon-Jim-Beaton-Remembered
Ann Owens
Pacific Seafood Processors Association
Office Manager
1900 W Emerson Place Suite 205, Seattle, WA 98119
Phone: 206.281.1667
E-mail: pspafish@gmail.com; Website: www.pspafish.net
Our office days/hours are Monday-Friday
8:00 A.M. – 5:00 P.M.
In accordance with Title 17 U.S.C. Section 107, any copyrighted work in this message is distributed under fair use without profit or payment to those who have expressed a prior interest in receiving this information for non-profit research and educational purposes only. *Inclusion of a news article, report, or other document in this email does not imply PSPA support or endorsement of the information or opinion expressed in the document.