Alaska/Pacific Coast
Cordova ranks in top 30 commercial fish ports
NOAA report shows 35 million pounds of seafood worth $38 M landed in at Cordova's port in 2016
Cordova Times by Margaret Bauman – November 3, 2017
A new federal fisheries report on the economic impact of America's fisheries ranks Cordova 28th in the nation in 2016 on commercial fisheries landings.
http://www.thecordovatimes.com/2017/11/03/cordova-ranks-top-30-commercial-fish-ports/
SPECTRUM: Healthy salmon habitat something we can all agree on
Mat-Su Salmon Symposium is Nov. 8-9 in Palmer
Frontiersman by Sam Cotten – November 4, 2017
Alaskans love their salmon. Salmon embody a cultural aspect for the people of this state probably more than any other natural resource found here. We count on their return each year. We hope for and favor abundance over times of scarcity. We fish for salmon for different reasons. Salmon are food for many of us, they bring income to others, and it is this prized group of fish that draws so many to Alaska from the Lower 48 each year.
http://www.frontiersman.com/opinions/spectrum-healthy-salmon-habitat-something-we-can-all-agree-on/article_5ae4d906-c1b3-11e7-afd0-0f5365e862d4.html
National
Cod, Shrimp and Pangasius See Gains in US Consumption, Canned Tuna Continues to Slide
SEAFOODNEWS.COM by John Sackton – November 3, 2017
Cod is the big winner in the per capita consumption numbers as it has taken an increased share of the whitefish market over the past five years.
The per capita consumption numbers released by the National Fisheries Institute yesterday showed a drop in overall US seafood consumption from 15.5 to 14.9 lbs.  Almost all of that drop was attributable to salmon, where consumption fell .7 lbs per person.
The NMFS model on which NFI bases its numbers is a disappearance model, and is changed when Alaska has a big year on pink salmon, or a negative year.  In 2016 Alaska landed 300 million lbs less salmon than in 2015, mostly due to a shortfall in pinks.  When converted to edible weight, this accounts for almost all the drop in salmon consumption.
The numbers are more useful to show trends over time, which do not depend quite so much on the year to year changes in harvest.
This year, three species stood out as making consistent consumption gains:  shrimp, cod, and pangasius.
Shrimp grew from 4.0 to 4.1 lbs per capita, an increase of 2.5%.  This reflects the continued health of the shrimp market in the US, and this number should grow again for 2017.
Pangasius has been gaining market share vs. tilapia, and pangasius consumption grew 20% from 0.743 to 0.89 lbs per person.  Meanwhile domestic catfish was basically unchanged at 0.51 lbs per person.  The popularity of pangasius comes from its low prices that have held during 2014, 15, and 2016.  This has now changed with pricing moving up 15% in 2017.  Further the pangasius supply could face disruption due to USDA inspection procedures.
The surprising star of whitefish growth has been cod.  Cod consumption (which includes both Atlantic and Pacific Cod) has been trending upward for five years.  It has grown from 0.52 lbs per capita to 0.66 lbs per capita.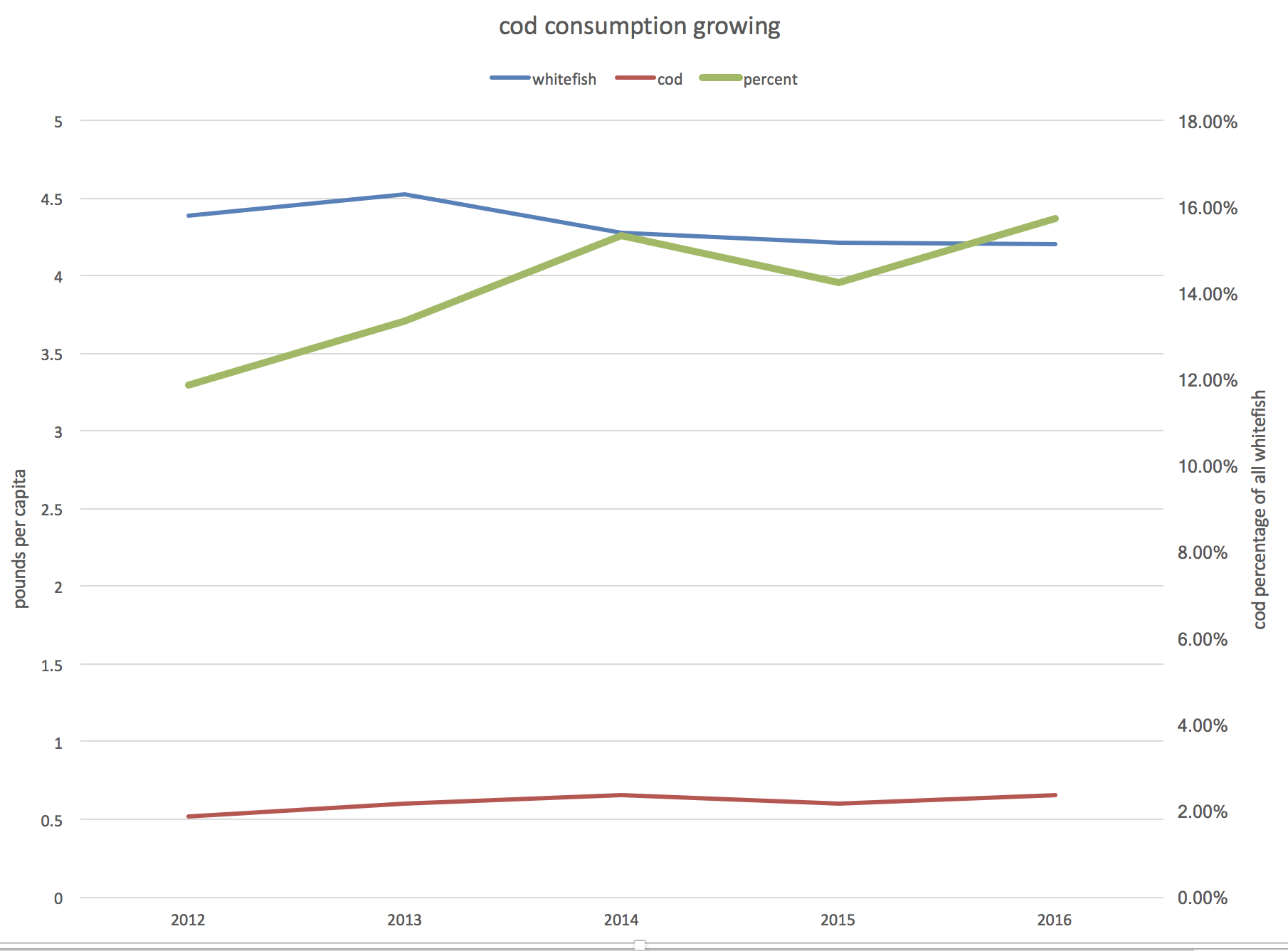 Chart: Cod Percentage of Whitefish is Growing (SeafoodDatasearch)
While overall whitefish consumption (cod, pollock, tilapia, pangasius, catfish) has fallen 0.3% in 2016, cod consumption grew 10% based on per capita figures.
As our chart shows, cod's share of the whitefish market has grown from 11% to 16% over the past five years.
On the negative side, canned tuna continues to lose seafood market share.  The trend has been steadily down over the past five years, and per capita consumption fell another 4.5% in the latest figures.  Tuna has gone from 2.4 lbs per person in 2012 to 2.1 lbs per person today.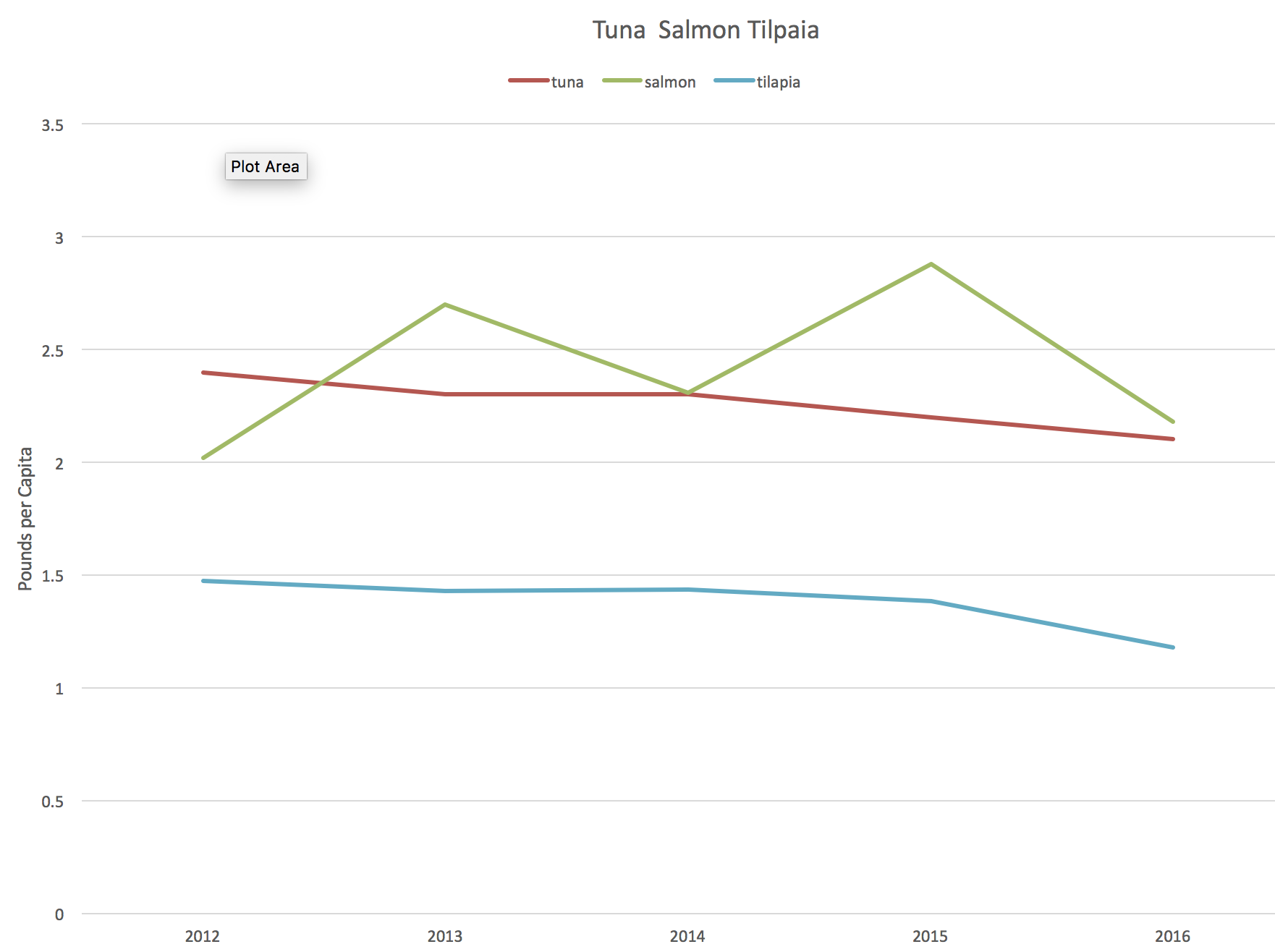 Declines in Tuna, Salmon and Tilapia (Salmon is a one year issue) Chart: SeafoodDatasearch
Shellfish numbers are hard to compute from the data, as scallops are not included in the top ten species. Crab consumption has been stable.
http://www.seafoodnews.com/Story/1081582/Cod-Shrimp-and-Pangasius-See-Gains-in-US-Consumption-Canned-Tuna-Continues-to-Slide

Environment/Science
Climate change preview? Pacific Ocean 'blob' appears to take toll on Alaska cod
Warm water linked to the blob appears to have knocked back Gulf of Alaska cod. Fishing fleets, many based in Washington, are bracing for cuts.
Seattle Times by Hal Bernton – November 4, 2017
Gulf of Alaska cod populations appear to have nose-dived, a collapse fishery scientists believe is linked to warm water temperatures known as "the blob" that peaked in 2015.
https://www.seattletimes.com/seattle-news/environment/climate-change-preview-pacific-ocean-blob-appears-to-take-toll-on-alaska-cod/
FYI's
Seattle's Alaska connection: Northern neighbors moving here faster than anyone else | FYI Guy
Californians are moving to King County in record numbers. But when you take into account state population, it's not even close: Alaskans are moving here at a higher rate than people from any other state.
Seattle Times by Gene Balk – November 2, 2017
And to think, in all these years we've been complaining about Californians moving here, we completely let Alaskans off the hook.
https://www.seattletimes.com/seattle-news/data/seattles-alaska-connection-northern-neighbors-moving-here-faster-than-anyone-else/
Expo to mark end of fishing season
KCAW News – November 2, 2017
The Alaska Sustainable Fisheries Trust is hosting a fisherman's training expo next week, November 8th – 10th. There will be workshops in marketing, business, and safety. Alyssa Russell joined us on the phone to talk about the expo's events. The banquet marks the end of the fishing season.
https://www.kcaw.org/2017/11/02/expo-feast-mark-end-fishing-season/
Ann Owens
Pacific Seafood Processors Association
Office Manager
1900 W Emerson Place Suite 205, Seattle, WA 98119
Phone: 206.281.1667
E-mail: pspafish@gmail.com; Website: www.pspafish.net
Our office days/hours are Monday-Friday
8:00 A.M. – 5:00 P.M.
In accordance with Title 17 U.S.C. Section 107, any copyrighted work in this message is distributed under fair use without profit or payment to those who have expressed a prior interest in receiving this information for non-profit research and educational purposes only. *Inclusion of a news article, report, or other document in this email does not imply PSPA support or endorsement of the information or opinion expressed in the document.