Politics
Oregon, California senators step up pressure on Trump administration to approve salmon emergency cash
The Oregonian/OregonLive by Andrew Theen – October 4, 2017
Oregon and California's four senators, all Democrats, stepped up the pressure on the Trump administration Wednesday to approve disaster assistance for salmon fishermen along 200 miles of coastline.
http://www.oregonlive.com/environment/index.ssf/2017/10/oregon_california_senators_ste.html
Judge overturns Mallott on salmon habitat proposal
Alaska Journal of Commerce by Elwood Brehmer – October 9, 2017
Alaskans seeking more protections for the state's salmon notched a victory Oct. 9 when a Superior Court ruling overturned Lt. Gov. Byron Mallott's denial of a ballot initiative to overhaul permitting laws for projects in and around salmon-bearing waters.
http://www.alaskajournal.com/2017-10-09/judge-overturns-mallott-salmon-habitat-proposal#.WdzgnYZrw_U
International
ANALYSIS: August Imports of Frozen Cod Fillets From China Down 17.9% From Same Period Year Ago
SEAFOODNEWS.COM by Nicole West – October 9, 2017
August imports of frozen cod fillets from China were 7.4 million pounds compared to 9 million pounds for the same period a year ago; down 17.9%. Year-to-date imports sit at 61.9 million pounds, up 4.9%, compared to 59 million pounds for the same date range in 2016.
Imported cod fillet market prices from China have been steadily increasing since the beginning of 2017 as supplies have been just adequate for a brisk demand in both the U.S. and abroad.
Year-to-date imports of frozen fillets from Russia and Norway have advanced 13.7 percent and 110.8 percent respectively compared to last year, with Russia totaling 6.1 million pounds and Norway 1.7 million pounds. Market prices have been steady.
Imports of frozen fillets from Iceland were 5,621,584, down 12.1%, compared to 2016 where imports totaled 6,395,320. Market prices in the U.S. have increased slightly on Icelandic product due to a supply disruption at the end of last year and into 2017 caused by a fishermen's strike in that country.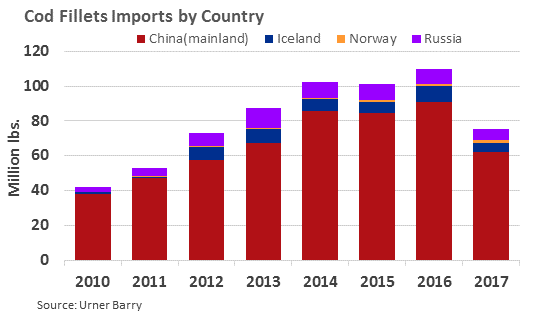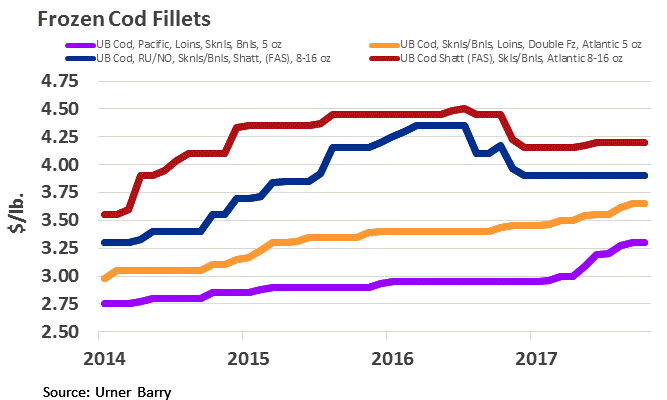 http://www.seafoodnews.com/Story/1078373/ANALYSIS-August-Imports-of-Frozen-Cod-Fillets-From-China-Down-17-point-9-percent-From-Same-Period-Year-Ago

FYI's
Port of Seattle plans $35 million Fishermen's Terminal makeover to stem losses
Puget Sound Business Journal by Andrew McIntosh – October 7, 2017
The Port of Seattle has a $35 million plan to redevelop the iconic but unprofitable Fishermen's Terminal in Ballard.
https://www.bizjournals.com/seattle/news/2017/10/06/port-of-seattle-fishermens-terminal-renovation.html
5 things we've learned about the Pacific Northwest's endangered salmon
Bellingham Herald by Rocky Barker – October 7, 2017
Research, tenacious advocates and $16 billion have lifted Columbia and Snake salmon from the brink of extinction, but we have yet to figure out a sustainable plan to save the fish that provide food and millions in business and ecological benefits.
http://www.bellinghamherald.com/news/state/article177709856.html
Ann Owens
Pacific Seafood Processors Association
Office Manager
1900 W Emerson Place Suite 205, Seattle, WA 98119
Phone: 206.281.1667
E-mail: pspafish@gmail.com; Website: www.pspafish.net
Our office days/hours are Monday-Friday
8:00 A.M. – 5:00 P.M.
In accordance with Title 17 U.S.C. Section 107, any copyrighted work in this message is distributed under fair use without profit or payment to those who have expressed a prior interest in receiving this information for non-profit research and educational purposes only. *Inclusion of a news article, report, or other document in this email does not imply PSPA support or endorsement of the information or opinion expressed in the document.