Alaska/Pacific Coast
Smallest sockeye harvest in last 10 years; late runs made openings complex
Peninsula Clarion by Elizabeth Earl – October 4, 2017
Sockeye salmon were scarcer in Upper Cook Inlet this year, but coho, chum and pink salmon were more plentiful than expected.
http://peninsulaclarion.com/news/local/2017-10-04/smallest-sockeye-harvest-last-10-years-late-runs-made-openings-complex
5.6 Billion Pounds of Seafood Had $5.2B Impact on Alaska
Fishermen's News – October 4, 2017
Alaska Seafood Marketing Institute's latest economic value report concludes that the state's 2016 seafood harvest of 5.6 billion pounds had a $5.2 billion impact on Alaska's economy.
http://fnonlinenews.blogspot.com/2017/10/56-billion-pounds-of-seafood-had-52b.html
Stunning Preliminary Report Shows Gulf of Alaska Cod Stocks Down By More Than Half
SEAFOODNEWS.COM by Peggy Parker – October 4, 2017
A presentation by NOAA Fisheries shocked committee members at the North Pacific Council meeting with the message that preliminary numbers from the latest survey show the lowest estimate ever of Pacific cod in the Gulf of Alaska.
The presentation showed that cod year classes for 2012 and 2013 were essentially wiped out, and failed to show up in the 2015 survey.  The disappearance of these year classes coincided with the extended period of high water temperatures in the Gulf of Alaska in 2014-15.  This was the time the 'blob' was off the Pacific coast. As a result, Pacific cod TACs are likely to be significantly less for 2018.
Pacific cod, along with rockfish, is the money fish in the Gulf of Alaska.  A large cut in cod TACs to prevent overfishing will have a large impact in the Gulf.
The presentation was made yesterday to the Science and Statistical Committee and the Advisory Panel of the North Pacific Fisheries Management Council, a day before the Council convenes its week-long meeting.
Presented by Dr. Steve Barbeaux, research fisheries biologist at NOAA Fisheries in the Alaska Fisheries Science Center in Seattle, the data showed recruitment failures in 2013-2016. A high abundance of cod larvae that showed up in the survey in 2013 never made it to the bottom trawl survey in 2015.
The presentation uses data from the most recent Gulf of Alaska cod survey in an assessment model to estimate the abundance (numbers) and biomass (weight) of Pcod in the area.
It shows there has been a 71 percent decline in abundance since 2015, and an 83 percent decline since 2013. In weight, it shows a 58 percent drop in the biomass since 2015, and a 78 percent decline since 2013.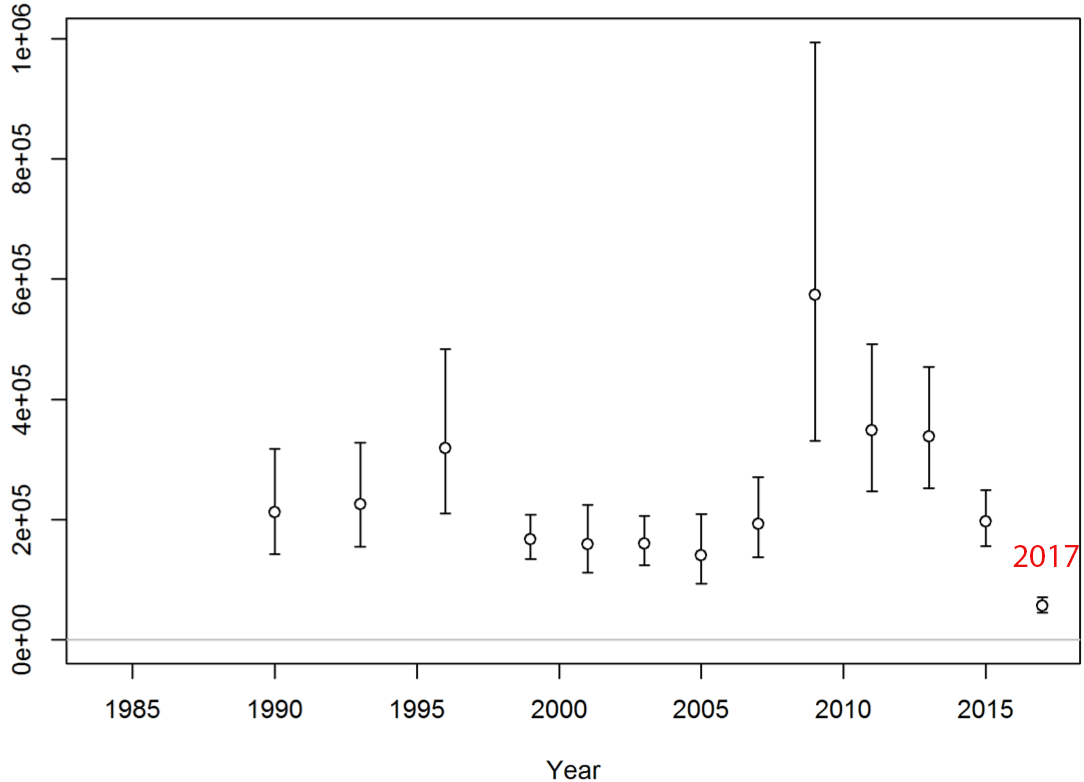 Graph Showing Biomass Estimates from Trawl Survey in Gulf of Alaska, Presented to SSC.
Barbeaux noted that the ABC estimates generated from last year's models without the new survey data suggested a 2018 ABC of 79000 mt was likely too high and could potentially lead to overfishing if fully utilized.
Preliminary model runs for this year using the new survey numbers and fishery catch data suggest a 60-85% reduction in ABC for 2018. However these models have not yet been vetted through the extensive review process and may change.
A more thorough assessment report, its data, and models used on it will be reviewed by the SSC, the stock assessment team, and the Groundfish Plan Team before the Council meeting in December, when specs are set.
In 2015 there were record high temperatures in the Gulf — it was the year that the strange "blob" of warm water in the North Pacific was at its hottest and most expansive, affecting waters as far north as the Bering Sea. it has cooled down now so that ocean temperatures are now closer to, although still warmer than, the 1996-2016 average range.
Barbeaux accessed other surveys — a longline survey showing a 53% decline from 2015 and a large mesh trawl survey that showed P-cod abundance trends were down for both 2015 and 2016.
He looked at P-cod bycatch in the pollock fishery and found that those numbers had significantly decreased.
When stomach contents were looked at, the prey weight was "down to lowest measured in Pacific cod stomachs in 2015."
In summary, Barbeaux noted that in 2015, "Warmer temperatures were throughout the year and water column; higher metabolism in higher temperatures lead to higher forage requirements, while there were indications of lower forage amounts. With a final conclusion that the combination of that could have lead to higher natural mortality for these years for the 2012 year class."
2015 was the first of three years in which there were large die-offs of fish-eating birds, with reports that the bodies found were emaciated. There were also widespread breeding failures in 2016.
This story has been updated for accuracy and recent developments.
http://www.seafoodnews.com/Story/1077936/Stunning-Preliminary-Report-Shows-Gulf-of-Alaska-Cod-Stocks-Down-By-More-Than-Half

International
NKorean workers prepare seafood for US stores, restaurants
Associated Press – October 4, 2017
HUNCHUN, China — The workers wake up each morning on metal bunk beds in fluorescent-lit Chinese dormitories, North Koreans outsourced by their government to process seafood that ends up in American stores and homes.
http://www.msn.com/en-us/news/world/nkorean-workers-prepare-seafood-for-us-stores-restaurants/ar-AAsUoYS
MSC sets 20 percent global coverage goal
The Marine Stewardship Council (MSC) aims to have at least 20 percent of the world's fisheries certified to its sustainability standard by 2020 – up from the current level of 12 percent.
Fish Site by Rob Fletcher – October 5, 2017
MSC were one of a number of companies and organisations from across the seafood supply chain to share a raft of commitments in support of the Our Ocean conference, hosted by the European Union and opening in Malta today.
https://thefishsite.com/articles/msc-sets-20-percent-global-coverage-goal
Ann Owens
Pacific Seafood Processors Association
Office Manager
1900 W Emerson Place Suite 205, Seattle, WA 98119
Phone: 206.281.1667
E-mail: pspafish@gmail.com; Website: www.pspafish.net
Our office days/hours are Monday-Friday
8:00 A.M. – 5:00 P.M.
In accordance with Title 17 U.S.C. Section 107, any copyrighted work in this message is distributed under fair use without profit or payment to those who have expressed a prior interest in receiving this information for non-profit research and educational purposes only. *Inclusion of a news article, report, or other document in this email does not imply PSPA support or endorsement of the information or opinion expressed in the document.