Alaska/Pacific Coast
Alaska Fisheries Report
KMXT by Kayla Desroches – September 28, 2017
Coming up this week on the Alaska Fisheries Report, conservation concerns about king salmon has put a damper on sport fishing in Southeast over the last few months. But fishermen will get another crack at reeling them in soon enough. And this time keeping them.
http://kmxt.org/2017/09/alaska-fisheries-report-sept-28-2017/
Abundant Canadian Halibut Holding Down Prices, Fresh Halibut Market Plugged
SEAFOODNEWS.COM by John Sackton – September 28, 2017
The fresh halibut market is not being kind to Alaska this year.   As of the last week of September over 15 million pounds have been landed in the West Coast and Alaska, and Canadian Atlantic fresh halibut imports are running a little ahead of last year, and should total around 12 million pounds for the year.
Halibut companies in Alaska say that the market is slow, as buyers are reacting to a extended period of high prices.
Wholesale Seattle prices for fresh halibut (10-20 lbs) have come down in September to $7.75, compared to $8.35 average in July.
At the same time, prices for Canadian halibut on the East Coast have come down as well from $9.31 in August to $9.00 for the past couple of weeks in September.
Companies like Icicle are still buying in Homer, but some smaller buyers are holding back due to the current market conditions.
The current prices don't reflect the larger Halibut picture in Alaska.  For the first time in 4 years, fresh halibut prices have trended downward over the entire season.
Not coincidentally, this year saw the highest opening wholesale prices on fresh halibut in four years.  Last March, fresh halibut in Seattle was selling at $9.25, compared to $8.10 the prior year, and $8.00 the year before that.
As our chart shows, the Alaskan halibut market got ahead of itself this year, and as a result major foodservice customers have been reacting to the high prices.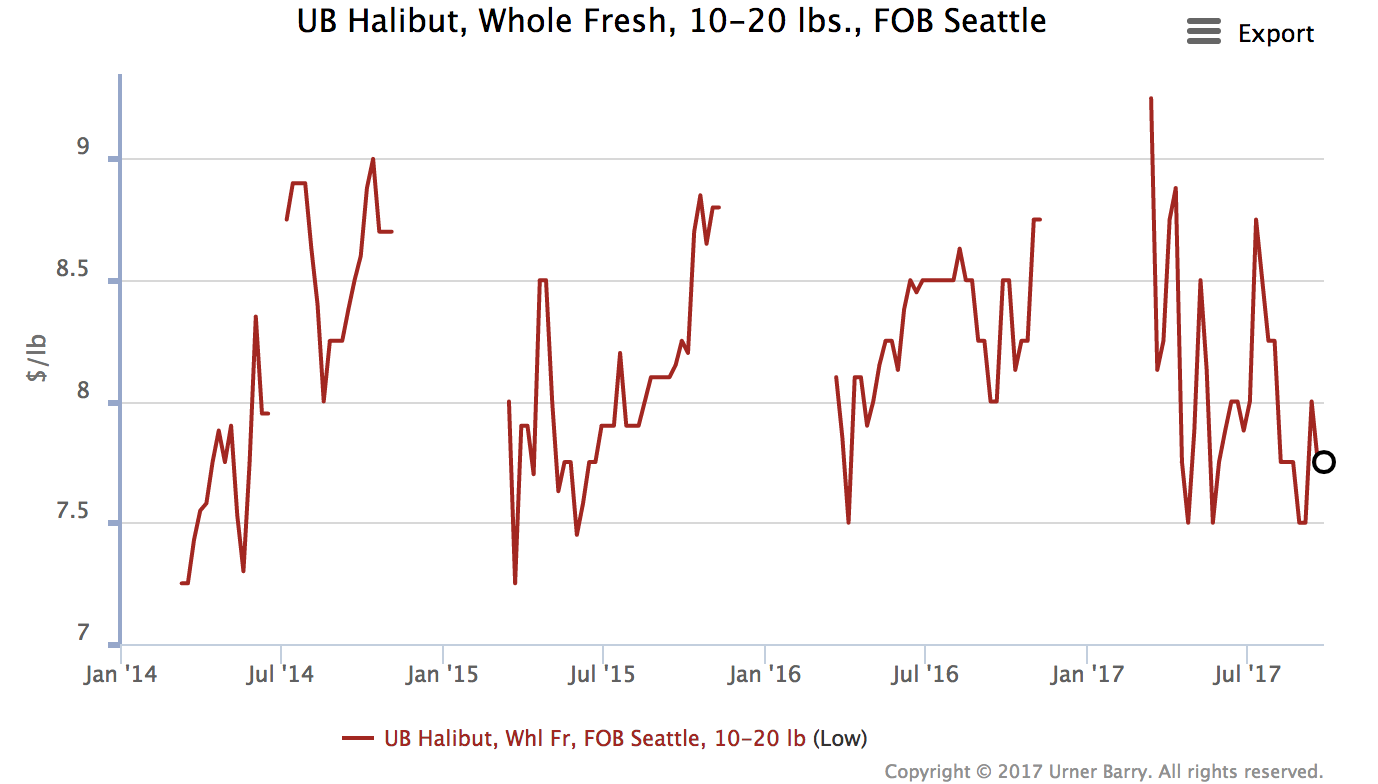 http://www.seafoodnews.com/Story/1077335/Abundant-Canadian-Halibut-Holding-Down-Prices-Fresh-Halibut-Market-Plugged
Coalition Urges Investigation into BC Mines
Fishermen's News – September 27, 2017
A coalition of conservation groups and Alaska Native tribal governments are asking Secretary of Commerce Wilbur Ross to investigate six hard rock mines in British Columbia and their anticipated impact on salmon-rich transboundary watershed.
http://fnonlinenews.blogspot.com/2017/09/coalition-urges-investigation-into-bc.html
International
Value of B.C. farm-raised salmon climbing fast, industry report says
Vancouver Sun by Randy Shore – September 28, 2017
The value of B.C. farmed fish rose 37 per cent between 2013 and 2016, according to a report commissioned by the B.C. Salmon Farmers Association.
http://vancouversun.com/news/local-news/value-of-farm-raised-salmon-climbing-fast-industry-report-says
Environment/Science
Tagging experiment offers evidence that setnet-caught kings survive
Peninsula Clarion by Elizabeth Earl – September 26, 2017
After the disastrous summer of 2012, when poor king salmon returns gave commercial Cook Inlet east side set gillnet fishermen only a handful of fishing days throughout the season, Brent Johnson began brainstorming.
http://peninsulaclarion.com/news/local/2017-09-26/tagging-experiment-offers-evidence-setnet-caught-kings-survive
Labeling and Marketing
ASMI Report Stresses Key Role of Seafood in Alaskan Economy
SEAFOODNEWS.COM by Peggy Parker – September 29, 2017
In case anyone in the Alaska Legislature is wondering how important the seafood industry is to Alaska's economic recovery, they should lay aside their doubts and pick up ASMI's latest report on the state's seafood industry.
"The Economic Value of Alaska's Seafood Industry" is a top-line report on the basic components of what makes the seafood industry in Alaska a major economic driver. To wit, seafood directly employs more workers than any other industry in Alaska, and is the third-largest overall job creator in the state next to the oil/gas and visitor industries (including multiplier effects).
The scale of Alaska's annual catches is enough to feed everybody in the world at least one serving of Alaska seafood. Every year.
Unlike the oil and gas industry, Alaska's fisheries are renewable and sustainably managed — likely at the top of the list of sustainably managed major fisheries in the world.
The report, authored by the McDowell Group for the Alaska Seafood Marketing Institute, looks at sectors within the industry, describes them and notes specific economic contributions. For instance, the seafood processing sector is the largest manufacturing sector in Alaska, accounting for 72% of the state's manufacturing employment.
The economic impacts from Alaskan fisheries is broken down by species (salmon is king in terms of jobs, labor income, and value added amounts, with pollock close behind) and regions (Bering Sea wins hands down thanks to pollock.) Pollock is first in harvest volume and total ex-vessel value, with salmon close behind.
State budget wonks and members of the Legislature can look at individual regions to see how big a role the seafood industry plays in their own districts. Economic components like jobs, labor income, number of workers, and output are quantified, and a narrative describing seafood-related regional benefits, such as the US Coast Guard facility in Kodiak, is included.
Another observed benefit for Alaskans is the drop in cost of living expenses due to the seafood industry.
"The majority of Alaska's consumer freight is a one-way, northbound haul," note the authors. "Shipping seafood on southbound routes provides "backhaul" revenue for shippers, allowing for more competitive rates on northbound freight.
"Alaska's seafood industry ships approximately 1 billion lbs. of  finished product southbound each year, or the equivalent of roughly 23,000 containers (at 20 mt/container)," the report concludes.
"Everyone benefits from the seafood industry, especially smaller communities in Western Alaska," says Kevin Anderson, president of Alaska Marine Lines, a barge transportation company that provides service between Seattle and nearly 100 ports and villages throughout Alaska. "Our ability to serve smaller communities, like those in Bristol Bay, would be drastically reduced without the prospect of southbound seafood shipments. Instead of six or seven sailings per year there might only be enough freight to support one or two."
Another section of the report lists tax revenue from the industry as well as fees and other contributions to the state's infrastructure.
"While the seafood industry and other industries cannot fill the hole in State General Fund revenues left by declining oil prices, seafood can play an increasingly important role in Alaska's economy by creating employment and income opportunities for Alaskans," the report notes.
Finally, the economic impact of Alaska's seafood industry on the nation includes 99,000 FTE (full-time equivalent) jobs in the U.S., with workers in these jobs earning $5.2 billion in total annual labor income.
The total U.S. economic output related to Alaska's seafood industry is $12.8 billion including all direct and multiplier impacts. That's the value of Alaska's seafood resource as it moves from the  fishing vessel to the consumer's plate, plus output arising from secondary impacts.
http://www.seafoodnews.com/Story/1077510/ASMI-Report-Stresses-Key-Role-of-Seafood-in-Alaskan-Economy
FYI's
Unwanted Unalaska fishing nets find second life in Denmark
Alaska Public Media by Zoë Sobel – September 25, 2017
There's no easy way to get rid of old fishing nets in Unalaska. America's top fishing port is remote and nets can weigh thousands of pounds.
http://www.alaskapublic.org/2017/09/25/unwanted-unalaska-fishing-nets-find-second-life-in-denmark/
Art Exhibit Features Relationship Between Alaskans and Salmon
KMXT by Kayla Desroches – September 22, 2017
A multimedia art exhibit Thursday night encouraged discussion about the relationships between Alaskans and salmon.
http://kmxt.org/2017/09/art-exhibit-features-relationship-alaskans-salmon/
Ann Owens
Pacific Seafood Processors Association
Office Manager
1900 W Emerson Place Suite 205, Seattle, WA 98119
Phone: 206.281.1667
E-mail: pspafish@gmail.com; Website: www.pspafish.net
Our office days/hours are Monday-Friday
8:00 A.M. – 5:00 P.M.
In accordance with Title 17 U.S.C. Section 107, any copyrighted work in this message is distributed under fair use without profit or payment to those who have expressed a prior interest in receiving this information for non-profit research and educational purposes only. *Inclusion of a news article, report, or other document in this email does not imply PSPA support or endorsement of the information or opinion expressed in the document.